Product News: Electrical Equipment & Systems, Electronic Components & Devices
Radiation Hardened Voltage References suit satellite applications.
Press Release Summary: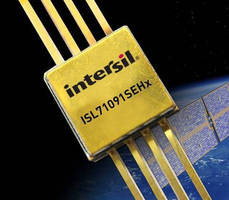 July 18, 2014 - Collectively, ISL71091SEH10/20/33/40 promote overall accuracy for 11- and 12-bit ADC resolution applications. Reference voltage is stable over time, temperature, and ionizing radiation. Performance is optimized via SOI-based PR40 process providing Single Event Latch-up (SEL) immunity, and bipolar technology enables devices to achieve low output noise with initial voltage accuracy of 0.05% Voltage accuracy is ±0.15% over -55 to +125ºC range and ±0.25% ionizing radiation.
Original Press Release
Intersil Introduces New Voltage Options for Radiation Hardened Family of Ultra Low Noise, High Precision Voltage References
Press release date: July 14, 2014
New ISL71091SEH Voltage References Ensure Signal Processing Integrity and Improve Voltage Accuracy in Satellite Applications

Milpitas, Calif. – Intersil Corporation (NASDAQ: ISIL), a leading provider of innovative power management and precision analog solutions, today announced the expansion of its industry leading line of radiation hardened (rad hard) voltage references to include four new devices, the ISL71091SEH10, 20, 33 and 40. Providing voltages previously unavailable for the rad hard space market, the new family enables better overall accuracy for 11-bit and 12-bit ADC resolution applications. The ISL71091SEH family offers the industry's best output voltage noise and a reference voltage that is stable over time, temperature and ionizing radiation, providing increased precision in satellite data acquisition, signal processing and power management applications.

Customers designing for rigorous applications require reliable precision analog solutions to obtain better overall accuracy. The ISL71091SEH20 provides a 2.048 voltage reference specifically for commonly used 11-bit ADC resolution, and the ISL71091SEH40 provides a 4.096 voltage reference specifically for 12-bit ADC resolution. Both devices provide a reference voltage consistent with 1mV LSB.  These voltage reference options enable the system designer to optimize accuracy within 11 and 12-bit signal processing system resolution targets, respectfully, ensuring signal processing integrity.

The ISL71091SEH radiation hardened voltage references deliver high performance by leveraging Intersil's innovative SOI-based PR40 process providing Single Event Latch-up (SEL) immunity to ensure robust performance in heavy ion environments. This and other Intersil patented technologies reduce performance compromises in even the most challenging applications. This advanced bipolar technology enables the ISL71091SEH family to achieve very low output noise with an initial voltage accuracy of 0.05%.  The ISL71091SEH devices provide industry leading voltage accuracy as well, +/-0.15% over temperature (-55ºC to +125ºC) and +/-0.25% ionizing radiation.

The ISL71091SEH devices, available in the smallest surface mount leaded package available also reduce overall solution size. Sinking capability on chip eliminates the need for buffering, which reduces system complexity while also increasing overall system accuracy.

"With the addition of the ISL71091SEH devices to our voltage reference family, Intersil now offers the most voltage options on the market for rad hard applications," said Philip Chesley, vice president of Precision Products for Intersil. "The ISL71091SEH family is ideal for high-end instrumentation, data acquisition, and processing applications requiring high DC precision where low noise performance is critical."
.

Features and Specifications
• ISL71091SEHVF40: 4.096V with an input voltage range from 6 to 30V, typical 6.2µVp-p 0.1Hz to 10Hz and 6.6µVrms 10Hz to 1kHz output noise with an initial voltage accuracy of 0.05%
• ISL71091SEHVF33: 3.3V with an input voltage range from 4.6 to 30V, typical 5.2uVp-p (3.3Vout) 0.1Hz to 10Hz noise with an initial voltage accuracy of 0.05%
• ISL71091SEHVF20: 2.048V with an input voltage range from 4.2 to 30V, typical 3.8µVp-p 0.1Hz to 10Hz and 3.4µVrms 10Hz to 1kHz output noise with an initial voltage accuracy of 0.05%
• ISL71091SEHVF10: 10V with an wide input voltage range from 12 to 30V, typical 14.8µVp-p 0.1Hz to 10Hz and 14.7µVrms 10Hz to 1kHz output noise with an initial voltage accuracy of 0.05%
• Industry leading voltage accuracy: +/-0.15% over temperature (-55C to +125C) and +/-0.25% ionizing radiation (50krad(Si) low dose rate, 100krad(Si) high dose rate)
• Provides a very low temperature coefficient of 6ppm/ºC and has excellent line and load regulation to ensure accuracy is maintained over variations in input voltage and load current.
• Sources 10mA and sinks 5mA

Pricing and Availability
The ISL71091SEH voltage references (4.096V, 3.3V, 2.048V and 10V) are available now in a compact 8-lead flatpack. Evaluation boards are available to support each voltage option, including the ISL71091SEH12EV1Z and the ISL71091SEH25EV1Z. 

For more information about the ISL7109SEH voltage references, please visit: http://www.intersil.com/en/products/space-and-harsh-environment/rad-hard-products/isl71091-voltage-reference-family.html.

About Intersil
Intersil Corporation is a leading provider of innovative power management and precision analog solutions. The company's products form the building blocks of increasingly intelligent, mobile and power hungry electronics, enabling advances in power management to improve efficiency and extend battery life. With a deep portfolio of intellectual property and a rich history of design and process innovation, Intersil is the trusted partner to leading companies in some of the world's largest markets, including industrial and infrastructure, mobile computing, automotive and aerospace. For more information about Intersil, visit our website at www.intersil.com.

Intersil and the Intersil logo are trademarks or registered trademarks of Intersil Corporation. All other brands, product names and marks are or may be trademarks or registered trademarks used to identify products or services of their respective owners.

Join the Conversation
Twitter
Facebook
LinkedIn

Media Contact
Shannon Pleasant
Intersil Corporation
+1 (512) 382-8444
spleasant@intersil.com

European Media Contact
Oliver Davies
Publitek Technology PR
+44 1225 470000 
oliver.davies@publitek.com