Product News: Sensors, Monitors & Transducers
Radar Level Transmitters provide ±0.078 in. accuracy.
Press Release Summary: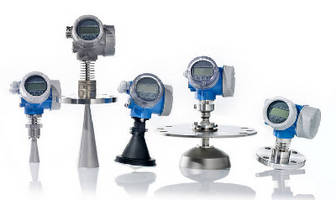 March 17, 2014 - With built-in 32-point strapping table, Micropilot FMR5X Series can measure level or volume of liquids and bulk solids products in metal or plastic tanks, stilling wells, or other vessels up to 131 ft high with standard units or 197 ft with enhanced dynamics option. Free space level transmitters have software with multi-echo tracking algorithms and functions to suppress interference echoes. Units can be loop powered by 4-20 mA in 2-wire arrangement, and are available in 4-wire configuration.
Original Press Release
Endress+Hauser Releases FMR5X Radar Level Transmitters
Press release date: March 6, 2014
FMR5X radar level transmitter can measure level or volume of liquids and bulk solids products in metal or plastic tanks, stilling wells or other vessels up to 131 feet high with accuracy up to ±0.078 inch.

Endress+Hauser introduces Micropilot FMR5X series of free space radar level transmitters. The FMR5X has software with multi-echo tracking algorithms and functions to suppress interference echoes, thus providing accuracy up to ±0.078 inch (2mm) for level measurement of liquids and bulk solids products.

The FMR5X can be used to measure level or volume with a built-in 32-point strapping table. The liquids can be measured in metal or plastic tanks, stilling wells, bypass chambers or other vessels up to 131 feet high with standard units or 197 feet with enhanced dynamics option. The instrument can also be used to detect minimum or maximum levels to prevent overfilling or empty tanks in addition to continuous monitoring of the level.

Like other Endress+Hauser "time of flight" instruments, the FMR5X measures the distance from the process connection to the product surface. However, the FMR5X is equipped with multi-echo tracking algorithms that ensure that interference echoes—for example, echoes from edges, weld seams, other instruments, baffles, agitators and heating coils—are not interpreted as level echoes. Multi-echo tracking uses self-learning algorithms that build short term and long term history to check the echoes for plausibility and increased reliablity.

A linearization table of up to 32 points can be entered either manually or semi-automatically. This function provides a linear 4-20mA output signal for spheres, horizontal cylindrical tanks and vessels with a conical outlet. Linearization can also be used to convert the level measurement into volume or mass engineering units.

Standard FMR5X models with 0.078 inch accuracy are available for measuring liquids or solids in basic applications in the chemical, oil & gas, life science, food, water/wastewater and energy industries.  Multiple FMR5X transmitters can be installed in the same tank without interference among them because the transmitter pulses are statistically coded.

FMR5X transmitters can be loop powered by 4-20mA in a two-wire arrangement, and are available in a four-wire configuration. Communication options include HART, Profibus PA and Foundation Fieldbus. An additional switch output can be ordered with HART, Profibus and Foundation Fieldbus versions. Optionally the transmitter is available with two independent configurable 4-20 mA outputs. Advanced diagnostic algorithyms can be used for either build-up or foam detection with either the switch or additional 4-20mA output.

The FMR5X is developed to SIL2 according to IEC 61508 and can be used with homogeneous redundancy up to SIL3. The FMR5X always checks that it's working properly and safely by continuous self-monitoring. A recurring check or proof test can be done in-situ without removing the transmitter from the process.

The FMR5X's HistoROM data management function allows fast and easy commissioning, maintenance and diagnostics. As well as continuously backing-up all relevant data, it allows a user to replace the instrument module quickly and simply by installing it into the housing; the HistoROM automatically uploads the configuration to the new module in the instrument. HistoROM also offers intuitive and user-friendly menu guidance to cut the cost of training, maintenance and operation.

For more detailed technical information on Micropilot FMR5X series of radar level transmitters please go to the product page at: www.us.endress.com/micropilot-radar-level.

About Endress+Hauser
Endress+Hauser is one of the world's leading suppliers of measuring devices, services and solutions for industrial process engineering.  In 2013, the company group recorded sales of approximately 2.4 billion dollars with more than 11,000 employees worldwide.  Endress+Hauser supplies sensors, devices, systems and services for level, flow, pressure and temperature measurement as well as liquid analysis and measured value recording.  The company supports its customers with automation, logistical and IT services and solutions.

Contact:
Crystal Hunt (Abrell)
Market Content Development Manager
Endress+Hauser, Inc.
Phone: 317-535-1306 (office), 317-439-6426 (mobile)
Fax: 317-535-2171
crystal.hunt@us.endress.com
www.us.endress.com