Product News: Electrical Equipment & Systems
RJ45 4-Pair Surge Protector meets/exceeds CAT6 standards.
Press Release Summary: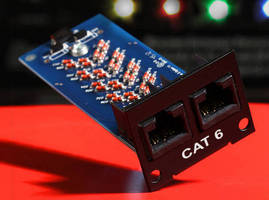 February 11, 2014 - With solid state technology lending to 2–5 nsec response time, SurgeGate™ CAT6 RJ45 4-Pair protector meets/exceeds CAT6 standards for signal integrity (attenuation, return loss, and crosstalk) and provides protection for technologies using 10 G Base-T Ethernet connections. Wall mounted device measures 9 x 4.5 x 2 in. and houses 1–6 surge protector modules, while 1U 19 in. rackmount housing accommodates 1–12 surge protector modules. Products come in 16, 75, and 235 V clamping levels.
Original Press Release
Surgegate(TM) CAT6 RJ45 4-Pair Protector up to 10x Faster Than CAT5
Press release date: February 3, 2014
New surge protector from ITW Linx provides true CAT6 performance, unique in marketplace

CAROL STREAM, IL — ITW Linx, a division of Lumex, announces the global launch of its innovative SurgeGate™ CAT6 RJ45 4-Pair surge protector. Thoroughly tested to meet or exceed CAT6 standards for signal integrity and featuring solid state technology for enhanced surge protection and industry-leading response time, the SurgeGate CAT6 RJ45 4-Pair protector provides superior protection for technologies using 10 G Base – T Ethernet connections. The SurgeGate CAT6 RJ45 4-Pair protector features patented circuitry allowing the protector to provide a response time to capacitance ratio superior to any product available in the market today.

"Not all marketed CAT6 surge protectors provide comparable signal integrity," explained Yasoob Ahmed, Director of Engineering at ITW Linx. "We tested three leading brands and found that none of their 'CAT6' technologies actually met TIA CAT 6 standards for signal integrity. It is important that consumers be aware that 'CAT 6 compatible' is not the same as 'meets CAT 6 standards'. The new SurgeGate CAT6 RJ45 4-Pair protector has been thoroughly tested to meet or exceed TIA CAT6 standards in regards to attenuation, return loss and crosstalk, setting it apart in today's market and providing the greatest possible protection against expensive downtime and equipment damage."

Through the use of solid state technology, SurgeGate CAT6 RJ45 4-Pair protector ensures enhanced safety and the fastest protection time in the industry with a response time of 2-5 Nanoseconds. This is up to 2500% faster than the clamping speeds obtained with older gas-tube technologies which are still very present in the market today as well as up to 10x faster than the clamping speeds provided by CAT5.

The SurgeGate CAT6 RJ45 4-Pair protector is available in three different clamping voltage levels.
• 16 Volt (for LAN internet applications)
• 75 Volt (for applications requiring paired power and data such as POE and VOIP phone systems and security cameras)
• 235 Volt (for voice analog telecommunication applications)

The SurgeGate CAT6 RJ45 4-Pair protector is available with both wall mounted and rackmount housing options. The wall mounted device measures 9" x 4.5" x 2" and houses anywhere from one to six surge protector modules. The 1U 19" rackmount housing houses anywhere from one to 12 surge protector modules.

ITW Linx surge protectors are UL listed. They meet or exceed the UL 497 standard are are RoHS compliant. The SurgeGate CAT6 RJ45 4-Pair protector is available in-stock from Graybar. ITW Linx can provide expert technology integration support.

ITW Linx Contact Information
For additional information or engineering assistance:   via email at sales@lumex-linx.com or at 1-800-336-5469
In North America, EU and Asia, contact the ITW Linx Sales Department, 425 N. Gary Avenue, Carol Stream, IL 60188 USA. 
Phone: 1-800-336-5469. 
Fax: (630) 315- 2151.
E-mail: sales@lumex-linx.com
Web: www.itwlinx.com

About ITW Linx
ITW Linx has been manufacturing lightning and surge protection products for over 25 years. The company´s US-based engineering team is devoted to designing and testing to the toughest standards in the industry. Manufacturing facilities in the U.S. and abroad to minimize time to market and maximize global presence.

ITW Linx offers a full line of lightning and surge protection products covering the breadth of the telecom, datacom and physical security markets. From rack mount solutions to pair by pair block protectors, ITW Linx provides protection solutions ranging from basic systems to cutting-edge technologies.

About the ITW Photonics Group
The ITW Photonics Group was created to bring together and build on the technical expertise of individual companies that specialize in photonics technology and span the full spectrum of wavelengths.  The group consists of:
• Lumex - LED and LCD technology
• Cal Sensors - IR Detector and Emitter technology
• Opto Diode Corp - LED, Silicon Photodiodes and Electro-Optical Assembly technology
• ITW Linx – Surge protection technology

The synergy of these industry front-runners provides an unsurpassed range of photonic capabilities within a broad spectrum of markets, including medical, military and industrial controls.  The ITW Photonics Group provides integrated solutions that encompass the technology and experience from all three business units, offering design engineers higher performance with greater feature enhancements. For more information on the ITW Photonics Group, go to www.itwphotonicsgroup.com