Product News: Material Handling & Storage, Portable Tools, Mining, Oil Drilling & Refining, Construction Equipment & Supplies
Quick-Change Block System maximizes uptime.
Press Release Summary: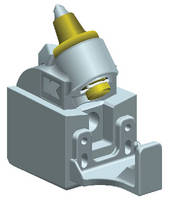 March 31, 2014 - For surface mining and trenching machines, no-weld QC42 Quick Change Block System cuts time needed to change block from machine base from 60–90 min down to 10–15 min. System features 1070 spring steel retainer that provides added safety feature to keep unit together when not fully engaged from tapered press fit. Rubber bumper stops keep block from over-locking, while hardfaced block face ensures optimal conical rotation and minimizes wear.
Original Press Release
New Kennametal Quick-Change Block System Drastically Reduces Change Time; Maximizes Uptime
Press release date: March 21, 2014
New design features increase reliability

Kennametal´s QC42 Quick Change Block System cuts block change time from 60 to 90 minutes down to 10 to 15 minutes, dramatically improving machine uptime.

With the right tools for the right application, attacking even the most difficult cutting conditions is made easier. With many mines moving to a »no blasting, no drilling» mode, surface miner machines are encountering more severe cutting work. With a new no-welding modular block system, Kennametal´s QC42 Quick Change Block System cuts the time needed to change the block from the machine base from 60 to 90 minutes down to 10 to 15 minutes, dramatically improving machine uptime.

The QC42 system incorporates many new design features to make it more productive and reliable:
-a new 1070 spring steel retainer provides an added safety feature to keep the unit together when not fully engaged from a tapered press fit.
-rubber bumper stops keep the block from over-locking.
-a newly designed hardfaced block face ensures better conical rotation and minimizes wear.

For surface mining and trenching machines, the new QC42 Quick Change Block system reduces tool-change time and features a no-weld design for a safer work environment, taking machine uptime and productivity to a whole new level.

Kennametal Inc. is the leading global manufacturer of tooling and associated engineering services for successful construction work. Customers are assured the most technologically advanced tools, tooling systems, engineering services, and customer support, designed around maximizing productivity and improving performance. More information is available at www.kennametal.com.

Kennametal
Celebrating more than 75 years as an industrial technology leader, Kennametal Inc. delivers productivity to customers seeking peak performance in demanding environments. The company provides innovative wear-resistant products, application engineering and services backed by advanced material science, serving customers in 60 countries across diverse sectors of aerospace, earthworks, energy, industrial production, transportation and infrastructure. With approximately 14,000 employees and nearly $3 billion in sales, the company realizes half of its revenue from outside North America, and 40% globally from innovations introduced in the past five years. Recognized among the "World's Most Ethical Companies" (Ethisphere); "Outstanding Corporate Innovator" (Product Development Management Association); and "America's Safest Companies" (EHS Today) with a focus on 100% safety, Kennametal and its foundation invest in technical education, industrial technologies and material science to deliver the promise of progress and economic prosperity to people everywhere. For more information, visit the company's website at

Kennametal Shared Services GmbH
Wehlauer Strasse 73
D-90766 Fuerth
Carsten GROMOLL
Phone: +49 911 9735 557
Fax: +49 911 9735 551
carsten.gromoll@kennametal.com