Pure Sine Wave Inverter suits rail, industrial applications.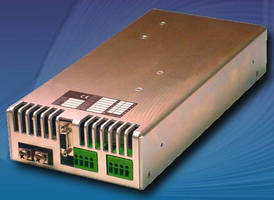 Pure Sine Wave Inverter suits rail, industrial applications.
January 24, 2012 - Providing up to 750 VA of power from 7.87 x 5.12 x 1.95 in. chassis mount package, PRP-750 Series includes versions that meet industrial (EN60950) and rail (EN50155) standards. Input voltages of 12, 24, 48, 72, and 110 Vdc are inverted to adjustable 120 or 230 Vac outputs regulated to 4% or better. Able to be configured for 3-phase synchronized output, series offers overload protection, -25 to +70įC operation, up to 88% efficiency, and remote inhibit as standard features.

(Archive News Story - Products mentioned in this Archive News Story may or may not be available from the manufacturer.)
Original Press release

Schaefer, Inc.
45 South Street
Hopkinton, MA, 01748
USA



Compact, Rugged 750W DC/AC Inverter for Rail and Industrial Applications


Hopkinton, MA - Schaefer announces the PRP-750 Series of highly efficient, pure sine wave inverters that provide up to 750VA of power in a chassis mount package. The PRP-750 Series has versions that meet industrial (EN60950) or rail (EN50155) standards.

Standard input voltages of 12VDC, 24VDC, 48VDC, 72VDC, and 110VDC are inverted to adjustable 120VAC or 230VAC outputs that are regulated to 4% or better. Units can be configured for three phase synchronized output.

All models in the PRP-750 Series feature overload protection, efficiency up to 88%, and have remote inhibit as part of the standard design. A wide operating temperature of -25C to +70C allows for installations in extreme conditions and meets EN50155 Class 3. Emissions to EN61000-6-4 and EN60121-3-2 meets both industrial and rail standards and minimizes interference to other sensitive equipment.

The compact size of the PRP-750 Series measures 7.87" x 5.12" x 1.95". In addition to chassis mounting, an optional DIN rail clip is available.

Schaefer's full family of pure sine wave inverters also includes other stand-alone modules starting at 250W of power, and higher power rack designs that include UPS functionality.

Modifications to standard units are available. In addition, Schaefer can design and manufacture fully custom solutions. PRP-750 Series pricing is from $960.00 at 100 pieces, with significant OEM quantity discounts.

Full specifications can be viewed at www.schaeferpower.com. For further information, please contact Schaefer, Inc., 45 South Street, Hopkinton, MA 01748. Tel: 508/435-6400 Fax: 508/435-6401. Email sales@schaeferpower.com.

---