Product News: Health, Medical and Dental Supplies & Equipment
Pulse Oximeter operates via iPhone, iPad, and iPod Touch.
Press Release Summary: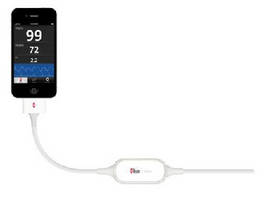 December 18, 2012 - Featuring Measure-Through Motion and Low Perfusion Masimo SET® technology, iSpO(2)™ Signal Extraction Pulse Oximeter enables users to check their own blood oxygenation, pulse rate, and perfusion index measurements for sports and aviation use. After connected to iPhone, iPad, or iPod touch, iSpO(2)™ application will automatically download. User slips sensor on ring finger and results appear on screen.
Original Press Release
Masimo Launches iSpO2(TM)- Commercially Available Pulse Oximeter for iPhone, iPad & iPod Touch
Press release date: December 12, 2012
IRVINE, Calif., -- In keeping with its commitment to excellence and innovation, Masimo (NASDAQ: MASI) today announced the debut of the iSpO(2)(TM) pulse oximeter cable and sensor with Measure-Through Motion and Low Perfusion Masimo SET(®) technology for use with iPhone, iPad or iPod touch with 30-pin connector.

iSpO(2)(TM) uses the same technology found in Masimo's breakthrough line of pulse oximeters and Pulse CO-Oximeters(TM) - the standard-of-care pulse oximetry technology at work in leading hospitals around the world - providing accurate measurements, even during the challenging conditions of motion and low perfusion.

Customers can purchase the iSpO(2)(TM) Signal Extraction Pulse Oximeter and use their iPhone, iPad or iPod touch to check their own blood oxygenation (SpO(2)), pulse rate, and perfusion index measurements for sports and aviation use and is not intended for medical use.

After purchasing the iSpO(2)(TM) (available at iSpO(2).com and Amazon) and connecting it to an iPhone, iPad or iPod touch, the iSpO(2)(TM) application will automatically download. Thereafter, using the iSpO(2)(TM) is easy as 1-2-3:

--  Connect the iSpO(2)(TM) cable to your iPhone, iPad or iPod touch
--  Slip the iSpO(2)(TM) sensor on your ring finger
--  Your results appear on screen

The iSpO(2)(TM) Medical, the professional version for medical use, is pending CE Mark and U.S. FDA 510(k) clearance. This product will be made available through Masimo's existing distribution channels.

"Masimo was founded on a mission to take noninvasive monitoring to new sites and applications," said Masimo founder and CEO Joe Kiani. "The iSpO(2)(TM) for iPhone, iPad or iPod touch with 30-pin connector represents our first consumer product and should create myriad new possibilities with the goal of further empowering people."

Please visit iSpO(2).com for purchasing information.

About Masimo
Masimo (NASDAQ: MASI) is the global leader in innovative noninvasive monitoring technologies that significantly improve patient care--helping solve "unsolvable" problems. In 1995, the company debuted Measure-Through Motion and Low Perfusion pulse oximetry, known as Masimo SET(®), which virtually eliminated false alarms and increased pulse oximetry's ability to detect life-threatening events. More than 100 independent and objective studies have shown that Masimo SET(®) outperforms other pulse oximetry technologies, even under the most challenging clinical conditions, including patient motion and low peripheral perfusion. In 2005, Masimo introduced rainbow SET(®) Pulse CO-Oximetry technology, allowing noninvasive and continuous monitoring of blood constituents that previously required invasive procedures, including total hemoglobin (SpHb(®)), oxygen content (SpOC(TM)), carboxyhemoglobin (SpCO(®)), methemoglobin (SpMet(®)), and Pleth Variability Index (PVI(®)), in addition to SpO(2), pulse rate, and perfusion index (PI). In 2008, Masimo introduced Patient SafetyNet(TM), a remote monitoring and wireless clinician notification system designed to help hospitals avoid preventable deaths and injuries associated with failure to rescue events. In 2009, Masimo introduced rainbow(®) Acoustic Monitoring(TM), the first-ever noninvasive and continuous monitoring of acoustic respiration rate (RRa(TM)).  Masimo's rainbow(®) SET(®) technology platform offers a breakthrough in patient safety by helping clinicians detect life-threatening conditions and helping guide treatment options. In 2010, Masimo acquired SedLine(®), a pioneer in the development of innovative brain function monitoring technology and devices. In 2012, Masimo acquired assets of Spire Semiconductor, LLC, maker of advanced light emitting diode (LED) and other advanced component-level technologies; and Phasein AB, a developer and manufacturer of ultra-compact mainstream and sidestream capnography, multigas analyzers, and handheld capnometry solutions. Masimo SET(®) and Masimo rainbow(®) SET(®) technologies also can be found in over 100 multiparameter patient monitors from over 50 medical device manufacturers around the world. Founded in 1989, Masimo has the mission of "Improving Patient Outcome and Reducing Cost of Care ... by Taking Noninvasive Monitoring to New Sites and Applications(®)." Additional information about Masimo and its products may be found at www.masimo.com.

Media Contact:
Mike Drummond
Masimo Corporation
Phone: (949) 297-7434
Email: mdrummond@masimo.com