Product News: Computer Hardware & Peripherals, Software
Proxy Software fosters next generation OPC standard adoption.
Press Release Summary: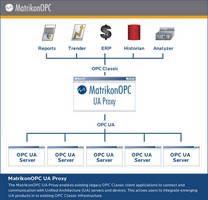 April 14, 2014 - MatrikonOPC™ UA Proxy helps companies take advantage of next generation Open Process Control (OPC) standard – OPC Unified Architecture (UA) – while continuing use of existing OPC classic architectures. Operating on Windows® system server, solution eliminates DCOM or firewall issues. Streamlined setup workflow enables connection to be made in minutes, while smart defaults, requiring minimal user knowledge of OPC UA, facilitate use.

Original Press Release
MatrikonOPC Releases the OPC UA Proxy
Press release date: April 3, 2014
EDMONTON, ALBERTA – MatrikonOPC™ today announced the release of MatrikonOPC UA Proxy, which makes it easy for companies to take advantage of the next generation Open Process Control (OPC) standard – OPC Unified Architecture (UA) – whilst continuing to use their existing OPC classic architectures.

While the OPC UA standard is backward compatible with classic OPC from a data perspective, it uses different technologies to establish connections and transmit OPC data. Using the UA Proxy from MatrikonOPC, companies can bridge this gap, making it possible for them to maximize their ROI on their existing classic OPC architecture whilst being free to adopt the broad range of new OPC UA based product offerings.

"Companies using OPC classic have seen the benefits that the adoption of open standards can bring to their business as well as the additional value OPC UA has to offer, but sometimes have concerns about how to go about tying the two technologies together," said Darek Kominek, marketing manager, MatrikonOPC. "With the release of the UA Proxy, MatrikonOPC removes those obstacles – providing the first easy, reliable way to seamlessly combine these two OPC technologies."

Key features include:
• Streamlined setup workflow allows for connection in minutes
• Easy to use, the smart defaults require minimal user knowledge of OPC UA
• Eliminates traditional DCOM or firewall issues
• Operates on Windows system server

To learn more about the MatrikonOPC UA Proxy, please visit: http://www.matrikonopc.com/opc-ua/products/ua-proxy.aspx

About MatrikonOPC
MatrikonOPC provides equipment data connectivity software and hardware based on the OPC standard. The MatrikonOPC promise is to empower customers with reliable data access to all major automation vendors' systems, provide practical OPC training and deliver superior client care. MatrikonOPC builds close relationships with its customers to best address their business and technical needs. With offices in North America, Europe, Asia-Pacific and the Middle East, MatrikonOPC provides local presence on a global scale. MatrikonOPC is a vendor neutral connectivity supplier. Visit MatrikonOPC at www.MatrikonOPC.com

For more information, contact:
Erin Leithoff
Regional Marketing Manager
MatrikonOPC
+1 780-448-1010 extension 4503
erin.leithoff@matrikonopc.com