Proportional Momentary Pushbutton withstands harsh areas.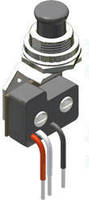 Proportional Momentary Pushbutton withstands harsh areas.
April 14, 2009 - Pro-Switch Series uses Hall-effect technology, providing user with output proportional to movement of switch actuator. Supplied in environmentally sealed (IP40, IP67) enclosure, product can be incorporated into any Cyber-Tech Industrial control handle or used as standalone proportional switch. It provides smooth and precise linear movement with signal level output from 0.50-4.50 Vdc, overall travel distance is 0.175 in. Ī0.015 in., and spring tension rate is 6.9 lb.

(Archive News Story - Products mentioned in this Archive News Story may or may not be available from the manufacturer.)
Original Press release

Cyber-Tech, Inc.
15940 S.W. 72nd Ave.
Portland, OR, 97281
USA



Pro-Switch Proportional Momentary Pushbutton


April 14, 2009 - The CTI Pro-Switch uses proven Hall Effect technology providing the user with an output proportional to the movement of the switch actuator. Designed using state of the art electronics combined with an environmentally sealed enclosure guarantees the Pro-Switch will withstand the harsh environments that's demanded in today's equipment industries. The CTI Pro-Switch can be easily incorporated into all of Cyber-Tech's Industrial control handles, or used as a standalone proportional switch.

Cyber-Tech, Inc New Pro-Switch Hall Effect Proportional Pushbutton with a smooth and precise linier movement.

Portland, Or - Cyber-Tech. today introduced the new Pro-Switch Series proportional momentary pushbutton switch. The Pro-Switch provides an accurate linier movement with a signal level output ranging from 0.50vDC - 4.50vDC. The Pro-Switch provides a overall travel distance of 0.175in +/-0.015in while incorporating a spring tension rate of 6.9lbs. Environmentally sealed electronics (IP40,IP67) tested up to 10,000,000 cycle.

Cyber-Tech Pro-Switch can be mounted to a panel system by drilling a 15/32" or 1/2" hole for panels up to a 1/4" thick. The Pro-Switch can be moisture sealed and or identified by a variety of colored sealed caps.

for more technical information please refer to the Pro-Switch Datasheet:

http://www.cyber-tech.net/documents/ProSwitch_DataSheet.pdf

Industry applications include: Agriculture Commercial, Forestry, Industrial and Military

The Pro-Switch comes with a 180 day warranty from date of purchase. For more information on the Pro-Switch or any of Cyber-Tech products, call 800.621.8754 or visit www.cyber-tech.net

About Cyber-Tech, Inc.

Cyber-Tech is a leading designer and manufacture of custom industrial grade control handles and joysticks with a consistent reputation for being rugged and reliable, while delivering a level of customer service that is superior in the industry. We strive to achieve total customer satisfaction in a number of ways. Our industrial grade products are custom configured to meet your specific operational requirements at prices comparable with our competitor's off the shelf products. All of our controllers can be identified with OEM part numbers and logos which allows large industrial equipment manufactures to integrate Cyber-Tech's products into there proprietary lines. Every one of our industrial grade controllers are 100% functionally and electrically tested prior to shipment. For more information, visit www.cyber-tech.net

Company Information:
Name: Cyber-Tech, Inc.
Address: 7943 SW Cirrus Drive
City: Beaverton
State: Oregon
ZIP: 97008
Country: USA
Phone: 800.621.8754
FAX: 503.620.8580
http://www.cyber-tech.net

sales@cyber-tech.net

---


Start Your

Free


Subscription to


Industry Market Trends

.