Product Tracking System is designed for watch industry.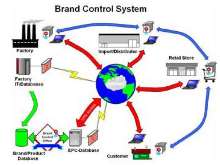 Product Tracking System is designed for watch industry.
October 26, 2004 - Web-based Brand Control System uses RFID technology to track and monitor product movement and help identify counterfeit items. RFID chips attached to watches allow watch factories, distributors, or retail stores equipped with readers to check authenticity, status, and registered location by connecting to addressed database. Watches are validated using a PC, PDA or notebook that communicates via internet by Brand Control System.

(Archive News Story - Products mentioned in this Archive News Story may or may not be available from the manufacturer.)
Original Press release

Winwatch S.A.
rue de l'envol 2
Sion, , 1950
Switzerland


Brand Control System
The First Product Tracking and Authentication System for the Watch Industry

As part of a designed pilot project, Winwatch will licence a flexible web based system called Brand Control System, that uses RFID technology to track and monitor watch movements and help identify counterfeit items for the watch industry.

The following diagram presents the context of the product tracking the Brand Control System:

In the diagram, RFID chips are attached to watches to track their location and verify their authenticity. The chip stores read information that is then transmitted via RFID waves to a reader.

The watch brand/factory, distributor or retail store equipped with readers can check its authenticity, status and registered location connecting to an addressed Brand/Product Database. Watches are validated using a PC, PDA or a notebook that communicates via internet by the Brand Control System. The Brand/Product Database records the status, location and corresponding product details of chip IDs that have been issued.

The Brand Control System can be hosted and managed by the designed system integrator, system Operator, or directly by the watch manufacturer.

Why track and authenticate wristwatches?

Brand Protection

Increasingly the watch industry has to fight against problems caused by counterfeit and unlicensed goods entering the supply chain. In today global economy, there is a pressing need for the application of new anti-counterfeiting technologies. RFID is a major innovation for tagging luxury watches to assist in their tracking and validation. Brand protection is helped by a track and validation system that coexists along the to-end supply chain to authenticate products and their locations as they enter various stages of their lifecycle.

Brand Misuse

In parallel markets watches are illegally sold through non-official resellers. Unauthorized distribution channels have a harmful impact on watch brands because: a) the brand image is injured due to a mix of low and high end distribution channels; b) revenues are decreased as official resellers sell at destructive discounts; c) Strength of official distribution channels is seriously undermined. Unauthorised distribution place because distributors, who are allowed to resell in their country, abuse their trading licence and resell in other countries or through other distribution channels in an effort to increase volumes.

Watch Tracking

If wristwatches are tagged with RFID chips, they provide the watch manufacturer with complete visibility of the lifespan of the product; end end from its manufacture to its sale. By monitoring the location of wristwatches, watch brands can improve their supply chain processes. involves streamlining communication, manufacture, turnaround times and improving information about a product's location in its lifecycle. Automatic reading and sorting at item-level reduces also the probability of errors and improves the efficiency of the distribution chain and the first move to tools like management reports, blacklists, alerts etc.
---


Start Your

Free


Subscription to


Industry Market Trends

.