Product News: Computer Hardware & Peripherals, Printing & Duplicating Equipment, Thermal & Heating Equipment, Robotics, Materials & Material Processing
Print-Place-Reflow Package performs prescision, high-mix assembly.
Press Release Summary: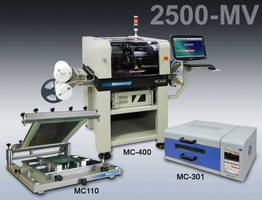 January 29, 2014 - Occupying minimal floor space, 2500-MV accommodates companies that require short-run, in-house production capability for ultra-precise, high component-mix SMT assembly. Included MC-400 pick and place system features Cognex® on-the-fly and bottom vision alignment for high-accuracy, 2,500 cph placement of SMDs. Additional package components include heavy-duty MC-110 stencil printer, which offers ±0.02 mm (<1 mil) repeatability, and MC-301 profilable batch reflow oven with benchtop design.
Original Press Release
High-Prescision, High-Mix, Print-Place-Reflow Package Under $47K
Press release date: January 28, 2014
Manncorp has recently reconfigured and expanded its exclusive selection of SMT turnkey packages, including stencil printing, pick-and-place, and reflow soldering equipment, to accommodate a wider range of production levels and budgets.  Among the ten different turnkeys presented on their website at www.manncorp.com/turnkeys is the new 2500-MV package.  Priced at only $46,995, the 2500-MV is designed for companies with a limited budget and minimal floor space who need short-run, in-house production capability for ultra-precise, high component-mix SMT assembly.

The cornerstone of the 2500-MV is the MC-400 pick and place system, featuring Cognex® on-the-fly and bottom vision alignment, for high-accuracy, 2500 CPH placement of a wide range of advanced SMDs—from 0201 chip components to BGAs and 15 mil ultra-fine-pitch devices.  The MC-400 has the capacity for up to 64 automatic "smart" tape feeders and can also accept a wide variety of stick, cut-strip, and IC tray holders.  Built upon the same architecture as Manncorp's popular MC Series of SMT pick and place machines, MC-400 feeders and software are compatible with all other MC series equipment.

The 2500-MV includes the heavy-duty MC-110 stencil printer—the industry's most robust, highest-precision, manual printer with a repeatability of ±0.02 mm (less than 1 mil).  Its universal mounting bracket allows clamping or screw mounting of frames up to 740 mm x 740 mm (29" x 29") and tool-free, self-locking, X-Y-Z and theta axis adjustments provide quick and easy stencil to pad alignment.

The MC-301 profilable batch reflow oven rounds out the 2500-MV and simulates the performance of an inline system in a compact benchtop design.  Through its innovative user interface and Android operating system, preheat, soak, reflow, and cooling stages are easily programmed to conform to component and paste manufacturer's precise specifications.  For process control and traceability, solder profiles are easily saved and distributed via built-in WiFi.

To learn more about the 2500-MV or other SMT turnkey systems available from Manncorp, please go to www.manncorp.com/turnkeys.

Sales and support offices in three locations: East (Huntingdon Valley, PA), West (San Diego, CA) and Mexico.   www.manncorp.com

Paulette Kevolic
Marketing Coordinator
215-830-1200
pkevolic@manncorp.com