Product News: Sensors, Monitors & Transducers
Pressure Sensors combine durability, sensitivity, flexibility.
Press Release Summary: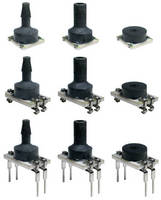 April 29, 2014 - Suited for medical and industrial applications, TBP Series Basic Board Mount Pressure Sensors are unamplified, provide mV output, and offer 1–150 psi pressure range, -40 to +125°C operating range, and 0 to +85°C compensated range. ROHS-compliant, 0.276 x 0.276 in. sensors, used to measure gauge pressures, are intended for use with non-corrosive, non-ionic gases as well as non-corrosive, non-ionic liquids (with silicone gel coating option).
Original Press Release
Honeywell's New Basic Compensated Unamplified Board Mount Pressure Sensors Provide High Durability, Sensitivity and Flexibility
Press release date: April 16, 2014
The TBP Series can be used in medical applications including hospital beds, oxygen concentrators, wound therapy and blood pressure monitoring, and industrial applications such as HVAC transmitters, air movement control, environmental control, leak detection, pneumatic controls and other commercial applications.

The compact TBP Series Basic Board Mount Pressure Sensors offer a wide pressure range (1 psi to 150 psi, 60 mbar to 10 bar, 6 kPa to 1 MPa) and an operating temperature range from -40 °C to 125 °C (-40 °F to 257 °F) and a 0 °C to 85 °C compensated temperature range.

Honeywell's new Basic Compensated Unamplified Board Mount Pressure Sensors Provide High Durability, Sensitivity and Flexibility

• Allows OEMS to Manage Amplification to Maximize Resolution
• Widest Pressure Range Enables OEMs to Maximize Sensitivity
• Small Size and Package Options Simplify Installation
• Low Current Consumption Allows for use in Battery-powered Applications
• Global Supply Chain Expertise Provides Fast Delivery

MINNEAPOLIS — Honeywell (NYSE:HON) today announced its new Basic Board Mount Pressure Sensors, Compensated, Unamplified, TBP Series. These new sensors are designed for customers who require a simple, high quality, cost-effective, basic performance, mV output sensor that is compensated and unamplified so they can do their own amplification while retaining maximum resolution.

"The new TBP Series are designed to be flexible to meet the varying needs of our customers," said Jacqueline Leff, senior product marketing manager. "Their small size and numerous package options simplify placement on crowded PC boards, a wide pressure range allows for use in applications requiring higher pressures, and their low current consumption allows for use in battery applications.  Additionally, customers can count on a fast response for quotes and samples, and a supply chain that is available throughout their development cycle."

The TBP Series, used to measure gauge pressures, may potentially be used in medical applications including hospital beds, oxygen concentrators, wound therapy and blood pressure monitoring, and industrial applications such as HVAC transmitters, air movement control, environmental control, leak detection, pneumatic controls and other commercial applications.

Gauge pressure sensors are referenced to atmospheric pressure and provide an output proportional to pressure variations from atmosphere. They are intended for use with non-corrosive, non-ionic gases, such as air and other dry gases, and for non-corrosive, non-ionic liquids when the silicone gel coating option is selected.  The TBP Series are designed and manufactured according to ISO 9001 and are ROHS compliant.

The TBP Series Basic Board Mount Pressure Sensors offer a wide pressure range (1 psi to 150 psi, 60 mbar to 10 bar, 6 kPa to 1 MPa) and an operating temperature range from -40 °C to 125 °C (-40 °F to 257 °F) and a 0 °C to 85 °C compensated temperature range.  Their size of 7 mm x 7 mm (0.276 in x 0.276 in) is very small when compared to most board mount pressure sensors, simplifying installation.  The TBP Series have an unlimited shelf life after the packaging is opened, can be calibrated within one hour after reflow solder, and are compatible with modern lead-free, no-clean solder processes.

• To order samples, click here.
• Download the product datasheet
• Watch the product overview video here
• Watch the product applications video here
• For additional product information, click here

Previous Honeywell Press Releases
Follow us on Twitter (@HONSensorSwitch)

About Honeywell
Honeywell (www.honeywell.com) is a Fortune 100 diversified technology and manufacturing leader, serving customers worldwide with aerospace products and services; control technologies for buildings, homes and industry; turbochargers; and performance materials. Based in Morris Township, N.J., Honeywell's shares are traded on the New York, London, and Chicago Stock Exchanges.

Honeywell Sensing and Control is a leading global supplier of custom-engineered sensors, switches, machine safeguarding and other devices that offer enhanced precision, repeatability and durability to a variety of original equipment manufacturing applications across the medical, industrial, transportation, aerospace, and test and measurement segments. For more news and information on Honeywell Sensing and Control, please visit http.sensing.honeywell.com.

Press Contacts:

Robyn Seykora
Honeywell
763-954-5378
robyn.seykora@honeywell.com

Mark Shapiro
SRS Tech PR - "Media Relations for the Connected World"
mshapiro@srs-techpr.com
+ 1 619 249 7742

Google Plus - https://plus.google.com/+Srs-techpr