Product News: Material Handling & Storage
Precision Fluid Dispensing System suits cleanroom applciations.
Press Release Summary: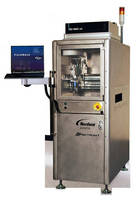 July 7, 2014 - Offering multiple built-in closed-loop process controls, 600 mm wide Spectrum™ II Cleanroom Series includes Class 100 (ISO 5)-compatible configurations for applications sensitive to contamination by submicron-sized particles. Modular design facilitates adaptation and upgrades, while Fluidmove® v6.0 software features promote consistent machine-to-machine performance. Other features include stainless steel system enclosure, ULPA filter, and high-speed operation.
Original Press Release
Nordson ASYMTEK Introduces New High-Speed, High-Accuracy, Precision Fluid Dispensing System for Cleanrooms
Press release date: June 26, 2014
Spectrum II Cleanroom Series improves quality, reliability, and efficiency for fluid dispensing applications sensitive to contamination such as wafer-level packaging and mobile phone camera module assembly

SEMICON West booth #5743

Carlsbad, CA, USA -- Nordson ASYMTEK, a Nordson company (NASDAQ: NDSN), a leader in fluid dispensing and jetting technologies, introduces high-speed, high-accuracy, scalable fluid dispensing systems with new Class 100 (ISO 5) compatible configurations. Nordson ASYMTEK's new Spectrum™ II Cleanroom Series was specifically created for applications that are sensitive to contamination by submicron-sized particles, such as wafer-level packaging and mobile phone camera module assembly.

The award-winning Spectrum II family of fluid dispensers has a small footprint of only 600mm wide, maximizing floor space and productivity for high-volume production environments. The modular design allows for easy adaptation and upgrading to accommodate new applications and production requirements. The Cleanroom Series includes features like a stainless steel system enclosure for easy wipe-down and maintenance and ULPA filter for down-flow ventilation for work-piece cleanliness. New Fluidmove® v6.0 software features (running on Windows® 7 Operating System) reduce operator dependency and training requirements to achieve consistent machine-to-machine performance.

Extremely accurate and repeatable X-Y dispensing enables smaller keep-out-zones (KOZs) to accommodate high-density packages, while precision Z-axis control enables tighter dispense gaps for thinner lines and smaller dots. The dispensing system offers many built-in closed-loop process controls such as an integrated weight scale, software-controlled fluid and pressure regulators, the capability to manage up to six heating stations, and patented calibrated process jetting (CPJ) and mass flow calibration (MFC) to automatically ensure volumetric repeatability during long production runs. These controls guarantee a reliable dispensing process that maximizes the total cost of ownership.

"When dispense location, weight, and volume are critical in particle-sensitive applications, there are no better fluid dispensers on the market than the Spectrum II cleanroom systems," said Garrett Wong, Spectrum Series product manager, Nordson ASYMTEK. "You won't need to purchase completely new equipment when production needs change because these flexible, scalable systems can be configured with options and features, such as pre- and post-queue stations, dual valve dispensing, and tilt jetting, to stretch your capital equipment dollars."

The Spectrum II Cleanroom Series is ideal for dispensing processes that are often done in a cleanroom such as wafer-level underfill dispensing, 3D packaging, chip encapsulation, dam and fill, dispensing thermal compounds, and MEMS wafer capping.

Nordson ASYMTEK will be exhibiting at SEMICON West, Moscone Center, San Francisco, CA from July 8-10, 2014 in booth 5743. Contact Nordson ASYMTEK to make an appointment to discuss your application. For more information contact Garrett Wong at info@nordsonasymtek.com website at www.nordsonasymtek.com.

About Nordson ASYMTEK
Nordson ASYMTEK, a world leader in precision automated fluid dispensing, conformal coating, and jetting technologies, designs and manufactures dispensing and coating systems, supported by an award-winning global applications and service network for over 30 years. To find out more, visit www.NordsonASYMTEK.com, www.Facebook.com/NordsonASYMTEK, or www.Twitter.com/NordsonASYMTEK.

About Nordson Corporation
Nordson engineers, manufactures and markets differentiated products and systems used for dispensing and processing adhesives, coatings, polymers, sealants and biomaterials; and for managing fluids, testing and inspecting for quality, treating surfaces and curing.  These products are supported with extensive application expertise and direct global sales and service.  We serve a wide variety of consumer non-durable, consumer durable and technology end markets including packaging, nonwovens, electronics, medical, appliances, energy, transportation, building and construction, and general product assembly and finishing.  Founded in 1954 and headquartered in Westlake, Ohio, the company has operations and support offices in more than 30 countries.  Visit Nordson on the web at www.nordson.com, www.twitter.com/Nordson_Corp or www.facebook.com/nordson.

For more information contact:
Nordson ASYMTEK Headquarters:
Roberta Foster-Smith
Tel: +1.760.431.1919
Email: roberta.foster-smith@nordsonasymtek.com

Agency Contact:
Andrea Roberts
A R Marketing, Inc.
Tel: +1.858.451.8666
Cell: +1.858.204.9584
Email: andrea@armarketinginc.com

International Offices:
Headquarters:
2747 Loker Ave. West
Carlsbad, CA 92010 USA
Tel: +1 760 431 1919
www.nordsonasymtek.com
China: +86 21 3866 9166
www.nordsonasymtek.com/cn
Europe: +31 43 352 4466
India: +91 44 4353 9024
Japan: +81 3 5762 2801
www.nordsonasymtek.com/jp
Korea: + 82 31 765 8337
www.nordsonasymtek.com/kr
Southeast Asia: +65 6796 9515
Taiwan: +886 2 2902 1860