Power Supply delivers 325 W at airflows down to 200 lfm.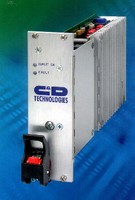 Power Supply delivers 325 W at airflows down to 200 lfm.
January 6, 2006 - Incorporating IPMI reporting functions for output voltage, output current, and temperature, 3U x 8 hp CompactPCI® Model CPCI325D-1 delivers full power of 325 W across operating temperature range of 0-50°C. Operating from 36-72 Vdc input voltage, unit supports hot-swap, N+1 redundant operation and features multiphase conversion, synchronous rectification, and output ORing FETs. EMI performance complies with Telcordia NEBS and ETSI EN 300 386 standards.

(Archive News Story - Products mentioned in this Archive News Story may or may not be available from the manufacturer.)
Original Press release

C & D Technologies
11 Cabot Blvd.
Mansfield, MA, 02048-1151
USA



CompactPCI® Power Supply With Enhanced IPMI Provides High Performance At Low Airflow


3Ux8HP supply with fully featured IPMI simplifies thermal management by delivering 325W at airflows down to 200lfm

o CPC1325D-1 delivers full rated power at 200lfm.
o Incorporates enhanced IPMI reporting functions for output voltage, output current and temperature
o Product design simplifies thermal management in high availability applications

November 25th, 2005, Mansfield, Massachusetts - Power conversion and control specialist C&D Technologies (NYSE: CHP) has expanded its family of CompactPCI® power supplies with a 3Ux8HP 325W module that combines fully featured IPMI (Intelligent Platform Management Interface) functionality with the ability to operate at significantly lower airflows than any other CompactPCI supply on the market.

Ideal for addressing the low airflow requirements of some CompactPCI chassis, the new CPCI325D-1 delivers full power across its operating temperature range of 0°C to +50°C with as little as 2001fm of airflow. Built-in IPMI functionality includes the basic FRU reporting capabilities offered by other CompactPCI modules plus enhanced functionality for reporting output current, output voltage and temperature. An output inhibit function is also provided as standard.

The CPCI325D-1 is designed for compliance with the PICMG 2.11 D1.0 CompactPCI Power Interface Specification. Features such as multiphase conversion, synchronous rectification, and output ORing FETs have been used to achieve high efficiency and the lowest airflow requirements of any CompactPCI power supply on the market.

Operating from a wide 36-72VDC input voltage range, the new 325W supply supports hot-swap, N+1 redundant operation for globally deployed, high-availability (HA) applications. As a result, the module is ideally suited to the broad range of CompactPCI® applications in telecommunications, networking, industrial computing,test and measurement, and industrial equipment. EMI performance complies with both the Telcordia NEBS and ETSI EN 300 386 standards.

The IPMI interface is achieved using a dedicated I²C microcontroller and proprietary code. This solution provides for active management of the power subsystem through the reporting of critical events, monitoring of routine status, and exercise of control functions through the SMBus. A key feature of this solution is the ability to accomplish a firmware update in situ through the 1²C interface.

While competitive offerings typically specify performance at 4001fm of airflow, the CPCI325D-1 was developed to overcome this frequent limitation in CompactPCI chassis. The high-efficiency topology, coupled with a mechanically open architecture, simplifies thermal management requiring as little as 2001fm of airflow.

An active-droop current sharing scheme permits improved sharing accuracy, especially among larger numbers of units operated in parallel. Single-wire active schemes suffer in N+n applications where N>1, particularly at low current levels. The active-droop approach overcomes these limitations to provide close sharing tolerance as well as eliminating the single-point of failure fault associated with the single-wire active schemes.Pricing for the CPCI325D-1 is under $300 in 500 piece quantities. Samples are presently available from stock with production delivery 4-6 weeks ARO.

In addition to this new product, C&D Technologies offers CompactPCI solutions in 3Ux4HP, 3Ux8HP, 6Ux4HP,and 6Ux8HP configurations from 200 to 500W.

Note: The datasheet for this product can be found by visiting www.cd4power.com and using the datasheet search box at the top of the page to scroll to CPCI325D-1.

C&D Technologies, Inc. is a technology company that produces and markets systems for the conversion and storage of electrical power, including telecom/industrial batteries, rectifiers and electronics. This specialised focus has established the company as a leading and valued supplier of products in two major categories - reserve power systems and electronic power supplies. Corporate headquarters are in Blue Bell, Pennsylvania, USA and the company is traded on the NYSE under the symbol 'CHP'.

The Power Electronics Division of C&D Technologies, Inc. has its headquarters in Mansfield, Massachusetts, USA, with manufacturing in USA, Mexico, UK and China plus sales locations in the USA, UK, France, Germany, China and Japan. The division designs, manufactures and distributes DC/DC converters, AC/DC power supplies, magnetics, Data Acquisition devices and panel meters, and offers these products in custom, standard and modified-standard variations. These products, which are built to exacting requirements in ISO9000:2000-approved facilities, are typically used worldwide by Original Equipment Manufacturers (OEMs) within telecommunications, computing, industrial and other high-tech applications.

In 2004 the product portfolio as well as the global design and manufacturing capabilities of the Power Electronics Division were significantly enhanced as a result of three key acquisitions. In May 2004, C&D acquired UK-based Celab Limited, a designer and manufacturer of power conversion products for military, cable television and high-end telecommunications applications. In June 2004, the company acquired Datel, Inc., a US-based producer of medium-power DC/DC converters, data acquisition products and digital panel meters. In September 2004, C&D completed the acquisition of CPS, the former Power Systems Division of Celestica, Inc., a Canadian manufacturer of DC/DC and AC/DC power supplies.

---