Product News: Electronic Components & Devices
Power Inductors suit DC/DC converters in mobile electronics.
Press Release Summary: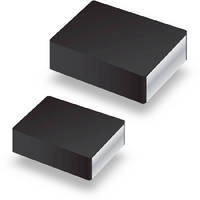 July 30, 2014 - Measuring 2.0 x 1.6 x 1.0 mm and 2.5 x 2.0 x 1.2 mm, respectively, Models SRP2010 and SRP2512 provide inductance values from 0.22–2.2 µH with lrms up to 4.5 A and lsat up to 6.5 A. RoHS-compliant SMD inductors feature wirewound construction and are designed with shielded iron powder core for low magnetic radiation. Inductors are suited for ultra-thin electronics applications including smartphones, tablets, and data storage devices.
Original Press Release
Bourns Introduces Low-Profile SMD High Current Shielded Power Inductors for DC/DC Converters in Mobile Electronics
Press release date: July 22, 2014
Low Magnetic Radiation, Small Footprint Inductors Are Excellent Solutions for Ultra-thin Electronics, Smartphones, Tablets and Data Storage Devices

RIVERSIDE, Calif. — Bourns, Inc., a leading manufacturer and supplier of electronic components, today introduced two new low-profile, small footprint SMD power inductors designed for DC/DC converters in mobile electronics applications. The new power inductor models, designated SRP2010 and SRP2512, feature inductance values from 0.22 - 2.2 µH with Irms up to 4.5 A and Isat (saturation current) up to 6.5 A. The dimensions of Bourns' Model SRP2010 is 2.0 x 1.6 x 1.0 millimeters (mm) and Model SRP2512 measures 2.5 x 2.0 x 1.2 mm making them ideal for a broad range of ultra-thin electronic applications including smartphones, tablets and data storage devices.

"Designers of today's multifunction mobile electronics applications continually demand smaller and thinner DC/DC converter solutions that must also meet their high current requirements.  Bourns' new low-profile power inductor devices have been designed to satisfy these needs," said Guido Zehnder, product manager at Bourns, Inc.  "As excellent additions to Bourns' extensive line of power inductors, the latest devices offer the advantages of wirewound construction, and are designed with an iron powder core that features high saturation current and shielded construction for low magnetic radiation" said Zehnder.

Pricing and Availability
As a pricing reference, the Bourns® model SRP2010 is priced at $ 0.22 each in 5,000 piece quantities.  Both Bourns low-profile SMD high current shielded power inductors are available now and are RoHS compliant*. For additional product specifications, please go to: http://www.bourns.com/data/global/pdfs/SRP2010.pdf and http://www.bourns.com/data/global/pdfs/SRP2512.pdf.

About Bourns
Bourns, Inc. is a leading manufacturer and supplier of automotive sensors, circuit protection solutions, magnetic products, microelectronic modules, trimming and precision potentiometers, panel controls and encoders and resistive products. Headquartered in Riverside, CA, Bourns serves a broad range of markets, including telecommunications, computer, industrial, instrumentation, automotive, consumer, non-critical life support medical, audio and various other market segments. BournsÈY products are manufactured according to ISO 9001 and ISO 14001 standards under Six Sigma quality programs. BournsÈY automotive products are manufactured in accordance with the ISO/TS 16949 standard. Additional company and product information is available at the company¡¦s website at www.bourns.com.

*RoHS Directive 2002/95/EC Jan. 27, 2003 including annex and RoHS Recast 2011/65/EU June 8, 2011.
BournsÈY and the Bourns logo are registered trademarks of Bourns, Inc. and may be used only with the permission of Bourns and proper acknowledgement. Other listed names and brands are trademarks or registered trademarks of their respective owners.

Company Contact:
Mikelyn Bridges
Bourns, Inc.
(951) 781-5397
mike.bridges@bourns.com