Product News: Electrical Equipment & Systems
Power Cords feature low smoke zero halogen design.
Press Release Summary: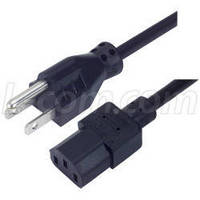 August 12, 2014 - Available in 14, 16, and 18 AWG versions, LSZH Jacketed North American Power Cords are suitable for applications where it is critical to protect people and equipment from toxic smoke and corrosive gases and where PVC cannot be used. LSZH cords are commonly used in many aerospace applications, especially in sealed aircraft environments and electric boats.
Original Press Release
L-com Now Offers Off-the-shelf LSZH Power Cords
Press release date: August 7, 2014
NORTH ANDOVER, MA  - L-com Global Connectivity, a designer and manufacturer of wired and wireless connectivity products, announced today that they are now offering low smoke zero halogen (LSZH) jacketed (C13 to N5-15) North American power cords. These power cords are ideal for applications where it is critical to protect people and equipment from toxic smoke and corrosive gasses and where PVC cannot be used.

Low smoke zero halogen (LSZH) is commonly used in many aerospace applications, especially in sealed aircraft environments and electric boats (submarines).

"We found many of our customers, especially government contractors, were looking for LSZH power cords in lower quantities and needed immediate delivery. Until now, only custom solutions with high minimum order quantities and long lead times were available for these unique power cords. L-com now stocks these cables and offers same-day shipping with no minimum order quantities," said Manuel Martinez III, Product Manager.

The power cords are available off-the-shelf in two and three meter lengths and are available in 14, 16 and 18AWG versions. Custom length options are also available with a 1,000 piece minimum order quantity and a 10 to 12 week lead time.

For more information about this release, please contact:
Lindsey Cook, Internet Marketing Specialist
978-682-6936 x1148, lcook@l-com.com

About L-com Global Connectivity
L-com Global Connectivity, a global leader in the manufacture of wired and wireless connectivity products, offers a wide range of solutions and unrivaled customer service for the electronics and data communications industries. The company's product portfolio includes cable assemblies, connectors, adapters, computer networking components, and custom products, as well as their HyperLink® brand of wireless products which include antennas, RF amplifiers, coaxial lightning and surge protectors, and NEMA rated enclosures. L-com's HyperLink® wireless products are designed for WiFi, WiMAX, SCADA, 802.11a/b/g/n/ac, RFID and Bluetooth applications. In addition to HyperLink®, L-com's other brands include MilesTek®, specialists in Military/Aeronautics connectivity solutions and Aiconics®, a leading manufacturer of electrical connector products.  Trusted for over 30 years, L-com, which is headquartered in North Andover, MA, is ISO 9001: 2008 certified and many of its products are UL® recognized For more information, please visit:  http://www.L-com.com/