Power Chuck has near zero z-axis repeatability.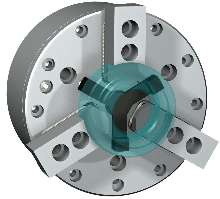 Power Chuck has near zero z-axis repeatability.
August 12, 2004 - Available in 6 and 8 in. sizes, DL Series dual lock, radial guideway chuck features no jaw lifting. Product actuates and clamps workpiece using radial actuation, then, as chuck develops gripping force, performs final axial, z-axis pull-back movement to fixed stop. This ensures accurate length control and axial repeatability. Sealed to keep out dust particles and retain lubrication, chuck allows for seating confirmation and accepts serrated jaws.

(Archive News Story - Products mentioned in this Archive News Story may or may not be available from the manufacturer.)
Original Press release

Kitagawa Div. North Tech Workholding, Inc.
300 E. Commerce Dr.
Schaumburg, IL, 60173
USA



DL Series Power Chucks From Kitagawa Offer the Latest in Rotational Workholding Innovation


Schaumburg, IL - (August 11, 2004) Kitagawa's DL Series Dual Lock Power Chuck is the newest innovation in rotational workholding.

The DL Series represents the first radial guideway power chuck with no jaw lifting, and z-axis repeatability near zero.

Because traditional workholding solutions for length control involve some form of "pull back" chuck, jaw stroke length is typically compromised. Also, traditional solutions may interfere with the z-axis loading of the workpiece. Kitagawa's new DL Series Power Chuck directly addresses these design challenges.

The DL Series Chuck actuates and clamps the workpiece using traditional radial actuation. Then, in the second part of the actuation, as the chuck develops gripping force the DL Series Chuck performs a final axial, z-axis pull-back movement to a fixed stop. This unique two-step actuation ensures highly accurate length control and superb axial repeatability. The DL Series Chuck features wide gripping diameters, for both I.D. and O.D. gripping. The Kitagawa DL is sealed to keep dust particles out and lubrication in, it allows for seating confirmation and is ideal for use in automation lines.

The DL-Series Power Chuck is available in 6" and 8" sizes and accepts conventional serrated jaws.

For more information, visit Kitagawa/NorthTech at IMTS Booth # E-2006 , contact NorthTech Workholding Inc., 301 E. Commerce Drive, Schaumburg, IL 60173, Phone: (800) 222- 4138, Fax: (847) 310-9484, email: inquiry@ntwhi.com, or visit NorthTech Workholding's Web site at: ntwhi.com.

---