Position Sensor handles harsh industrial environments.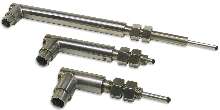 Position Sensor handles harsh industrial environments.
May 29, 2003 - Spring-loaded GHSDR 750 LVDT uses built-in electronics for dc input/output operation. Electronics and coil windings are hermetically sealed to IEC standard IP-68. Features include through-bore design, radially mounted, sealed electrical connector, and detachable mating connector. Units operate from ±15 Vdc input and provide pre-calibrated output from 0 to ±10 Vdc. Standard measurement ranges are from +0.050 to +2.00 in.

(Archive News Story - Products mentioned in this Archive News Story may or may not be available from the manufacturer.)
Original Press release

Macro Sensors, Div. of Howard A. Schaevitz Technologies, Inc.
7300 Industrial Center, Bldg. 22, US Route 130 North
Pennsauken, NJ, 08110 1334
USA


Spring-Loaded DC-LVDTs Offer Consistent Measurement in Harsh Dimensional Gaging Applications
Radial-Mounted Sealed Connector Reduces Installed Length

Pennsauken, NJ, May 29, 2003… Macro Sensors, a manufacturer of LVDTs, RVDTs and related instrumentation, offers a line of rugged, spring-loaded DC-operated LVDTs for dimensional or position measurement in automotive factories, forges and foundries (large shaft TIR measurements), metal fabricating shops, paper and/or plastic film plants, industrial process automation applications and all types of motion control systems.

Constructed entirely of stainless steel, the GHSDR 750 series use built-in electronics for a DC input/ output operation. Electronics and coil windings are hermetically sealed against hostile environments to IEC standard IP-68. The rugged construction of the GHSDR series permits operation in harsh industrial environments such as shop floors where dirt, oil, water and machine coolants may be present. Electrical termination is made through a radially-mounted sealed connector that permits a much shorter installed length.

The GHSDR 750 series offer three desirable features not typically found with comparable gaging-probe type position sensors:

• The through-bore design allows for air purging of the sensor's bearings to remove any potential contaminants.

• By locating the connector radially, the overall installed length of the LVDTs has been greatly shortened allowing for use in locations with space restrictions.

• A detachable mating connector, supplied with every unit, permits repair or replacement of damaged or severed cables without the need to replace the entire LVDT, as with units having integral cables.

The GHSDR 750 units exhibit excellent performance with repeability of 0.000025 inches (0.6 µm) or better, and maximum linearity error of ±0.25% of full range output. Units are available in standard measurement ranges of +0.050, +0.125, +0.250, +0.500, +1.00 and +2.00 inches. Special versions of the GHSDR 750 series of spring-loaded LVDTs can be provided for demanding or unusual applications such as nuclear radiation environments. Liquid tight electrical terminations can be easily added to standard units.

Operating from a ±15V DC input, these position sensors provide a pre-calibrated 0 to ±10 V DC output that works in conjunction with many PLCs, digital indicators, A/D converters, computer-based data processors, and QC data collection systems. Macro Sensors manufactures a full line of support electronics for these LVDTS including OEM modules, DIN-rail mount line-powered and DC-operated signal conditioners and digital display and control instruments.

Pricing for the GHSDR 750 series begins at $545. For price and delivery information, please contact Eileen Ellis at 856-662-8000/email: sales@macrosensors.com or visit our web site at www.macrosensors.com.
---