Position Sensor comes in 1.4 x 0.91 in. cylindrical package.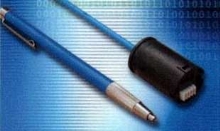 Position Sensor comes in 1.4 x 0.91 in. cylindrical package.
April 11, 2005 - Temposonics® C-Series linear position sensor utilizes magnetostrictive technology and has modular architecture built on base Core sensor that can accept additional application-specific features. With IP67 rated packaging, Core sensor is offered with 0–5 Vdc or PWM output and can be powered with 5 V power supply. Second electronics board can be added, which configures sensor to operate using 12 or 24 V power and adds protection circuitry for EMI immunity.

(Archive News Story - Products mentioned in this Archive News Story may or may not be available from the manufacturer.)
Original Press release

MTS Sensors Group
3001 Sheldon Dr.
Cary, NC, 27513
USA


MTS Temposonics® Unveils The World's Smallest Magnetostrictive Sensor
GARY, N.C. and LUDENSCHEID, GERMANY (February 15, 2005) — MTS Systems Corp. Sensors Division has developed the new Temposonics® C-Series linear-position sensor, incorporating the latest in magnetostrictive sensor technology to produce the world's smallest magnetostrictive position sensor. Designed for use in higher-volume OEM products, such as medical devices, small cutting/fastening/forming tools, and various consumer products, the C-Series sensor electronics fit completely inside a 36 mm (1.4 in) by 23 mm (0.91 in) cylindrical package. MTS engineers developed Application Specific Integrated Circuits (ASICs) that allow the dramatic size reduction, resulting in a sensor that is optimized for high volume production.

The C-Series sensor's modular architecture is built upon a base Core sensor to which additional application-specific features can be added as dictated by the application. This allows customers to avoid costs that are unnecessary for their application, while also allowing them to integrate the sensor completely into their specific product packaging. When more robust environmental protection is required by the application, the; modular design of the C-Series sensor allows for the addition of standardized IP67 rated packaging that effectively houses the Core sensor.

The C-Series Core sensor has a 0 to 5Vdc or PWM output available, and can be powered with a standard 5 Volt power supply. In addition, the modular architecture allows the addition of a second electronics board that configures the sensor to operate using 12- or 24-volt power and also adds additional protection circuitry for EMI immunity. The optional board was designed to optimize the C-Series sensor performance in many mobile machine applications, including agricultural, marine and construction equipment.

"The compact size and optimized cost of the C-Series Core sensor makes it an ideal choice to replace older technology sensors, such as linear potentiometers and LVDTs" said Jesse Russell, Product Marketing Manager, MTS Sensors Division. "The C-Series sensor brings immediate benefits to the customer, including lower cost due to the elimination of expensive signal conditioning and higher reliability due to the non-contact nature of magnetostrictive sensor technology."

The C-Series modular magnetostrictive sensor product line is ideal for embedding into applications such as sprayers, dispensing machines, fastener magazines, x-y positioning machines, medical beds, injection systems, small presses, clamps, small robots, grippers, filling mechanisms, marking equipment and many other assembly and dispensing tool applications.

For more information about the C-Series sensors, contact Jesse Russell, MTS Sensors Division, at 919-677-2314, jesse.russell@mts.com or via the Web at www.mtssensors.com.

MTS Systems Corporation is the world leader in magnetostrictive linear-position and liquid-level sensor technology. MTS Systems Corporation is a global operation, with facilities in the U.S., Germany and Japan. In the U.S., the MTS Sensors Division has an ISO 9001 facility manufacturing rugged and reliable Temposonics position and liquid-level sensors. With a strong commitment to research and development, product quality and customer service, the Sensors Division is constantly seeking ways to bring the highest value to customers.
---