Product News: Safety & Security Equipment, Health, Medical and Dental Supplies & Equipment
Portable In-Flight Oxygen System conserves space and weight.
Press Release Summary: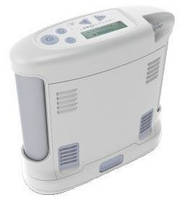 March 27, 2013 - Approved for use during all phases of flight, including taxiing, takeoff, and landing, 4.8 lb Inogen Aviator G3 concentrates oxygen from ambient air and can be used by single user at up to 15,000 ft. Included battery runs up to 2.5 hr, and there are 4 flow settings. Features include 12–32 Vdc power converter; 100–240 Vac, 50–60 Hz power supply; and LCD UI with continual self-diagnostics. Product meets FAA guidelines for supplemental oxygen, with no need to refill bottle of oxygen.
Original Press Release
Windblade Introduces the Inogen Aviator G3, Portable In-Flight Oxygen System
Press release date: March 19, 2013
SOLVANG, CA - Windblade Corporation, the exclusive  distributor of the Inogen Aviator in-flight pulse oxygen concentrator  for the general aviation community, announces the Inogen Aviator G3 for  immediate sale.

An extension of the existing Inogen Aviator product line, the G3 weighs  only 4.8 pounds (2.2kg), almost 3 pounds (1.4kg) lighter than the  Inogen One G2-1050.  The Inogen Aviator G3 concentrates oxygen from  ambient air and can be used by a single user up to 15,000'.  The system  is already in use by a wide range of pilots from kit planes to  pressurized jets, and approved for use during all phases of a flight,  including taxing, takeoff and landing, as well as for commercial  airline use.  The Inogen Aviator is safer than tank oxygen systems and  meets FAA guidelines for supplemental oxygen, with no need to ever  refill a bottle of oxygen.

Important Features:

- Lightweight and small

- Included battery that runs up to 2.5 hours

- Four (4) flow settings

- 12 - 32VDC power converter

- AC Power Supply 100-240V, 50-60Hz

-  Meets FAA guidelines for supplemental oxygen

- Certified to FAA radiated emissions standards (May run in IFR)

-  LCD user interface with continual self-diagnostics

- Three (3) year warranty

"The new, smaller size of the Inogen Aviator G3 means pilots can save  even more weight and precious space in their aircraft," says Thomas  Laux, President of Windblade.  "The G3 is ideal for pilots who  typically fly less than 15,000' and want to ensure they are well  saturated with oxygen while flying.  The G3 complements the Inogen  Aviator G2-1050, which provides more output, allowing pilots to use the  concentrator up to 17,999'."

The Inogen Aviator G3 includes one (1) nasal cannula (with spinner), one
(1) black carrying case, one (1) DC mobile 12-32 VDC power supply, one
(1) 12-cell battery (included in the base of the unit) and one (1) AC  power supply.

The Inogen Aviator has been described as highly functional and was  recognized at AirVenture 2011 as one of the "Best of Show" and "Hottest  Prospects".

About Windblade Corporation:
Windblade is the exclusive distributor for the Inogen Aviator,  supplemental oxygen solution for the general aviation industry.  Windblade is comprised of multiple rated pilots with an extensive range  of aviation background and experience, including designing and building  kit planes.

CONTACT: Media Contact:
Rachel Beauroy
rachel@inogenaviator.com