Portable Hardness Tester offers two instruments in one.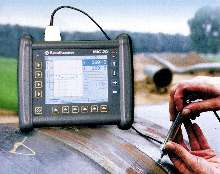 Portable Hardness Tester offers two instruments in one.
May 6, 2003 - Model MIC 20 combines Ultrasonic Contact Impedance testing for fine grained materials and rebound testing for coarse-grained materials. It is compatible with 10 UCI probes and 3 rebound impact devices, and will automatically recognize probe or device. Color LCD displays GUI using Windows standard, while touch-screen or keypad provides input and control of instrument functions. Measurement series can be displayed and analyzed as curve, histogram, or with statistics.

(Archive News Story - Products mentioned in this Archive News Story may or may not be available from the manufacturer.)
Original Press release

Agfa NDT, Krautkramer Ultrasonic Systems
50 Industrial Park Rd.
Lewistown, PA, 17044
USA



New Two-In-One Portable Hardness Tester
Agfa NDT Inc., Krautkramer Ultrasonic Systems' new MIC 20 portable hardness tester combines for the first time the UCI (Ultrasonic Contact Impedance) and rebound testing methods in one instrument. This enables the versatile MIC 20 to test fine-grained materials of almost any shape and size (UCI method) as well as coarse-grained forgings and castings (rebound method).

The MIC 20 is compatible with ten UCI probes and three rebound impact devices. Select a model based on the desired indentation size and for parts with complex geometry choose a style to overcome limited access. Once connected, the MIC 20 will automatically recognize the probe or device and setup the instrument.

The MIC 20's operation is both fast and intuitive. Hardness can be measured in seconds: just position probe or impact device, activate the measurement, and instantly read the value on the display. Test anywhere and in any direction without adjusting the instrument. Calibration and parameter setups can be stored and recalled at the press of a key.

A color LCD displays the graphical user interface using the well-known "Windows" standard. The instrument's touch-screen or keypad provides input and control of instrument functions. Display and analyze a measurement series as a curve, histogram or with statistics. The series can be named, stored and sent directly to a printer for a fast report.

The UCI method (Ultrasonic Contact Impedance) determines the hardness of a material from the area of the test indentation created in the material by a Vickers diamond after applying the test load. The rebound method is based on an impact body being impelled by spring force against the surface of the test object. The impact and rebound velocities are each measured in a non-contact mode and the hardness calculated from both their ratio.

Contacts:

Jim Fultz Agfa NDT Inc 717-242-0327 ext. 223

Rosemary Olson Agfa NDT Inc. 717-242-0327 ext. 305
---
User comments about this story
of price
fature proforme invoice
2 mic 10 hardness tester probe 205A
URGET
GETRO@WOLTEST.COM.BR
By
getro duarte on Apr 28, 2011 12:03
Reply to this comment


Start Your

Free


Subscription to


Industry Market Trends

.