Product News: Computer Hardware & Peripherals
Portable 3D Scanners scan any object in full color.
Press Release Summary: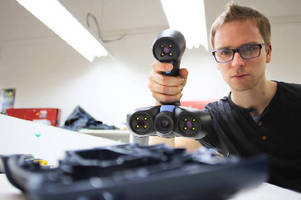 May 7, 2014 - Capable of scanning objects in 5 minutes or less, Go!SCAN 50 is designed to measure shape of medium to larger parts, while Go!SCAN 20 is dedicated for use with smaller objects with intricate details. White-light handheld scanners provide accuracy up to 0.004 in. and resolution up to 0.008 in. With TRUsimplicity™ scanning process, products are suited for museology, heritage preservation, restoration, digital archiving, multimedia, entertainment, computer graphics, and special effects.
Original Press Release
Creaform Launches Next Generation of Go!SCAN 3D Portable Scanners
Press release date: May 5, 2014
Now in Two Versions, New Go!SCAN 3D™  White-light Handheld 3D Scanners Offer Unprecedented Ease of Use and Capability to Scan Any Object in Full Color

Lévis, QC, Canada — Creaform, a worldwide leader in portable 3D measurement solutions and 3D engineering services, today announced the launch of two completely new versions of the Go!SCAN 3D scanner. Both versions provide unmatched fast and reliable 3D measurements, while offering the easiest portable 3D scanning experience on the market.

The Go!SCAN 50 was designed to measure the shape of medium to larger parts and offers optimal flexibility. The Go!SCAN 20 delivers maximum resolution and is dedicated for use with smaller objects with intricate details, making it the perfect companion for 3D printers. Customers will attest to the Go!SCAN 3D's multitude of benefits
• High speed: Typical objects are scanned in five minutes or less.
• Professional-grade measurements: The Go!SCAN 3D provides an accuracy of up to 0.1 mm (0.004 in.) and resolution of up to 0.2 mm (0.008 in.).
• Full-color 3D models: Users can easily and simultaneously capture of high-quality geometry and colors.
• TRUsimplicity™: Extremely simple scanning process.
• Point and shoot: No preparation or complicated setup is required. The scanner is up-and-running in less than two minutes.

Go!SCAN 3D scanners are tailored to the unique needs of:
• Product development engineers and technicians from all industries
• Engineers who use CAD and 3D printing professionals
• Museology, heritage preservation, restoration, digital archiving, 3D scanning for research, analysis and publishing, multimedia, entertainment, computer graphics and special effects

"Thanks to this latest Go!SCAN 3D release, 3D scanning has never been easier," explained François Leclerc, Product Manager. "With the addition of color and the intelligent hybrid positioning system, the Go!SCAN 3D are the professionals' go-to all-around solution for professional-grade 3D scanning capabilities."

At the same time as the Go!SCAN 3D release, Creaform launched the revolutionary new HandySCAN 3D scanner, which has been completely re-engineered for optimum speed, accuracy and portability. In addition, Creaform released the VXmodel, a Scan-to-CAD software module that integrates directly into Creaform's 3D software platform, VXelements.

For more information on Creaform's Go!SCAN 3D products, visit the Creaform web site: www.creaform3d.com

About Creaform
Creaform develops, manufactures, and sells 3D portable measurement technologies and specializes in 3D engineering services. The company offers innovative solutions, such as 3D scanning, reverse engineering, quality control, non-destructive testing, product development, and numerical simulation (FEA/CFD). Its products and services cater to a variety of industries, including automotive, aerospace, consumer products, heavy industries, healthcare, manufacturing, oil and gas, power generation, and research and education.

With headquarters and manufacturing operations in Lévis, Québec, Creaform operates innovation centers in Lévis and Grenoble, France, and has direct sales operations in the United States, France, Germany, China, Japan, and India. Creaform is a unit of AMETEK Ultra Precision Technologies, a division of AMETEK Inc., a leading global manufacturer of electronic instruments and electromechanical devices, with annual sales of $3.6 billion. For more information, visit www.creaform3d.com