Product News: Computer Hardware & Peripherals
PoE Midspan/Injectors and Kits support DIN rail mounting.
Press Release Summary: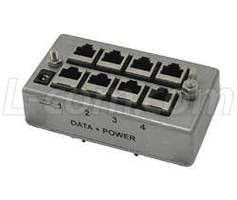 August 28, 2014 - Available individually or in kits, with 48 Vdc/48 W or 48 Vdc/70 W power supply, BTD-CATx series feature die-cast aluminum housing with clip on rear that allows mounting to DIN 3 rail. PoE midspan/injectors, available for Cat5, Cat5e, and Cat6 Ethernet applications, provide remote power to and allow flexibility in deployment/installation of PoE-enabled devices — VoIP telephones, wireless access points, CPE devices, IP web and surveillance cameras — in rack and equipment enclosure systems.
Original Press Release
L-com Launches DIN Mountable Power-Over-Ethernet (PoE) Midspan/Injectors and Injector Kits
Press release date: August 21, 2014
NORTH ANDOVER, MA -- L-com Global Connectivity, a designer and manufacturer of wired and wireless connectivity products, announced today that they will be offering DIN mountable versions of their existing series of PoE midspan/injectors. The new BTD-CATx series is available for Cat5, Cat5e, and Cat6 Ethernet applications.

"Our new DIN rail mountable midspan/injectors allow greater flexibility in the deployment and installation of PoE equipment in rack and equipment enclosure systems, which can significantly decrease installation time in many cases," said Kenneth Burgner, Product Manager.

Midspan/injectors provide remote power for access points, access servers, outdoor routers and other communications devices. The new BTD-CATx series features the same die-cast aluminum housing as the existing line, with the addition of a DIN clip mounted on the rear, which allows the injectors to be mounted to a DIN 3 rail.

Like the BT-CATx series, these new midspan/injectors are available individually or in kits, with either a 48VDC / 48 Watt or 48VDC / 70 Watt power supply.

The BTD-CATx series products can be used with Power-over-Ethernet enabled devices, Voice-over-Internet Protocol (VoIP) telephones, wireless access points, CPE devices and IP web and surveillance cameras.

For more information about this release, please contact:
Lindsey Cook
Internet Marketing Specialist
978-682-6936 x1148
lcook@l-com.com

About L-com Global Connectivity
L-com Global Connectivity, a global leader in the manufacture of wired and wireless connectivity products, offers a wide range of solutions and unrivaled customer service for the electronics and data communications industries. The company's product portfolio includes cable assemblies, connectors, adapters, computer networking components, and custom products, as well as their HyperLink? brand of wireless products which include antennas, RF amplifiers, coaxial lightning and surge protectors, and NEMA rated enclosures. L-com's HyperLink? wireless products are designed for WiFi, WiMAX, SCADA, 802.11a/b/g/n/ac, RFID and Bluetooth applications. In addition to HyperLink?, L-com's other brands include MilesTek?, specialists in Military/Aeronautics connectivity solutions and Aiconics?, a leading manufacturer of electrical connector products. Trusted for over 30 years, L-com, which is headquartered in North Andover, MA, is ISO 9001: 2008 certified and many of its products are UL? recognized For more information, please visit: http://www.L-com.com/