PoE Industrial Ethernet Switches suit high power equipment.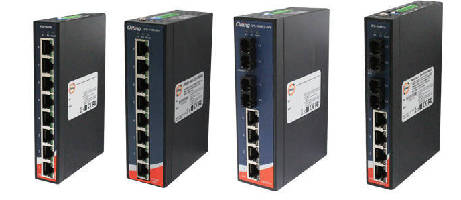 PoE Industrial Ethernet Switches suit high power equipment.
August 7, 2013 - With 24 V power input, Models IPS-1080-24V and IPS-1042FX-24V offer up to 30 W, making switches suitable for applications in vehicles and factory automation. Models IPS-1080A and IPS-1042FA, with IP30 rating, optimal heat dissipation, and operating temperature from -40 to 70°C, are suitable for limited space applications such as roadside conjunction boxes.

Original Press Release

ORing Industrial Networking Corp.
3F, No.542-2, Zhongzheng Rd., Xindian Dist., New T
Hsin Tien, , 23148
Taiwan



ORing's Cost-effective Industrial PoE Ethernet Switch


ORing Industrial Networking Corp. is pleased to release the four of our latest PoE(Power over Ethernet) IEEE 802.3(af/)at industrial Ethernet switch: IPS-1080A, IPS-1080-24V, IPS-1042FX-24V and IPS-1042FA Series. These products are specially designed for the high power demand equipment, such like the PTZ camera, long-distance wireless AP, and etc.

The power input of IPS-1080-24V and IPS-1042FX-24V is with 24 Volts power input, which is suitable for the application in vehicle and operating conditions in factories. Usually, the power input of PoE equipment is 48/50 Volt. Due to this requirement, proprietors are troubled by the compatibility between the upgraded and existing equipment and the configuration problem. ORing's 24V Industrial Ethernet switch series not only fully meets the requirements of vehicle and automation, but also makes the equipment upgrading more easily without the reconfiguration troublesome. Moreover, this series offers up to 30watts, which fully compliant with the high power demand, and its power is almost twice of the existing IEEE 802.3af PoE standard equipment!

IPS-1080A and IPS-1042FA series solve the problems of limited configuration space with the compact housing, for example, they can be well implemented in the roadside conjunction boxes. Also, these series come with the IP 30 rigid standard, excellent heat dissipation, and wide-ranged operating temperature from -40~70°C.

ORing offers the full product line of the industrial Ethernet switch, after the release of the Gigabit PoE Switch series, ORing brings this latest high-speed PoE Ethernet switch to the market with its excellent performance, time-to-market, user friendly and easy configuration, which satisfied the critical requirements in the market! ORing provides professional, various products and localize after-sale service all over the world. For any particular query about the products, please refer to ORing website http://www.oring-networking.com/ or directly e-mail to sales@oring-networking.com. ORing would love to offer the most suitable and efficient service.

---