Product News: Computer Hardware & Peripherals, Controls & Controllers
PoE HMI Panels target building automation industry.
Press Release Summary: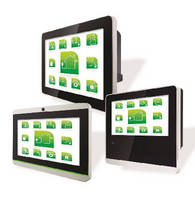 March 11, 2014 - Based on Intel® Atom processor and available in 7, 10.1, and 18.5 in. screen sizes, PoE Touchscreen HMI Panel PCs enable Internet of Things technologies for facilities management and building automation. Units combine power and data transfer via standard twisted pair of Ethernet cabling over network. PCs utilize standard IP protocols that ease integration across building so that data can move upstream through various data management systems such as HMI, SCADA, and ERP systems.
Original Press Release
AIS "Internet of Things" Digital Asset Management Systems Enable Advanced Intelligence and Connectivity to Smart Building Automation Control Systems
Press release date: February 24, 2014
AIS Open Platform, DAM Systems, Touch Screen PoE HMI Panels Enable "Internet of Things" (IoT) Technologies for Facilities Management & Building Automation

RVINE, CALIFORNIA — Known for their Internet of Things (IoT), Enterprise Asset Management (EAM), Digital Asset Management (DAM), energy efficient, open platform HMIs and flexible building control and monitoring solutions, American Industrial Systems, Inc. (AIS), introduces their standard and custom offering of PoE HMI panels for the building automation industry. PoE technology features a system that safely transfers electrical power and data to remote devices over standard category 5 cable in an Ethernet network. Since it does not require any modification to existing Ethernet cabling infrastructure, deployment is simple and cost effective. AIS open and flexible PoE building control and monitoring solutions are designed for commercial and industrial facilities. 

AIS Digital Asset Management Systems Deliver on the Demand for Ubiquitous Connectivity in Commercial & Industrial Buildings
As the world of enterprise asset management becomes increasingly digital and driven by the need for ubiquitous connectivity with inexpensive processing solutions, AIS digital asset management system solutions have the ability to use the internet to facilitate and expand communication between electronic devices. AIS PoE HMI panels enhance communication, automate complex and/or tedious processes and provide valuable data to improve productivity and reduce operational costs. AIS HMI building management panels and PoE HMI panels are ideal for a wide range of building control system applications including: HVAC control, access control, room reservation, room scheduling, interactive security systems, interactive patient room information displays; as well as interactive scheduling systems in hotels, schools, hospitals and government buildings and complexes.

AIS IoT HMI Panels Connect with BAS & Facilities Management Initiatives & Requirements
Commercial buildings and facilities are complex electrical and mechanical ecosystems. There is a never ending pursuit for facilities managers and building owners to make them smarter, more efficient and now more connected via the internet. Extending today's building automation through intelligence, security, and intuitive interfaces allow autonomous operations in smart buildings and facilities. The Internet of Things (IoT) promises more opportunities for intelligent automation in the built environment, delivering benefits for energy savings, remote monitoring and control, and easy to use room scheduling, visitor management and access security systems. AIS HMIs provide a common interface, seamless communications and remote control and monitoring capabilities via the internet, helping building owners and operators to manage their building management systems more efficiently and affordably.

AIS's IP-based Open Ethernet Architecture and IoT Technology Enables "Big Data Analytics"
In addition to simplifying operator interaction and adding value with powerful HMI capabilities with new software applications, AIS HMI Panel PCs utilize standard IP protocols that ease integration across the building so that data can move up stream through various data management systems such as HMI, SCADA and ERP systems. By specifying a common IP-based open Ethernet architecture system, it also simplifies interfacing and reduces cost of devices for building owners' and facilities managers' Enterprise Digital Asset Management Systems (DAMS), Building Management Systems (BMS), Energy Management Systems (EMS) and Building Automation Systems (BAS).

AIS's HMI Panels Machine-To-Machine (M2M) Communications and IoT Technology Facilitates Operational Technology (OT) and Information Technology (IT) Convergence
Intelligent, machine to machine (M2M) communications applications use sensors to collect information about operating conditions combined with HMI, SCADA, and cloud-hosted analytics software. It makes sense of disparate data points and helps facility managers and building owners become more proactive about managing buildings at peak efficiency, sensors/HMI/SCADA, buildings and future IoTs requirements.  Some key technology advancements include:
• Networked communication relying heavily on internet-enabled
• Sensors used for condition monitoring and fault detection and diagnosis
• Data acquisition and processing by advanced programming
• Data and analytics driven control response
• IP-based open Ethernet architecture enabled big data analytics
• AIS HMIs are engineered to meet the increasingly complex processes of machines and systems in industrial and commercial buildings

Faster Integration & Time-to-Market for IoT Applications Make AIS PoE Touch Screen HMI Panel PCs the Ideal Choice for DAMS, BAS, EMS and BMS
Constant cost pressures encourage building owners and facility managers to look into integrating all their building automation systems and accelerate the acceptance of Internet of Things driven devices to yield the benefits of new Internet enabled technologies. IoT increases the requirements for easy-to-use interface touch panels and IP-based open Ethernet architecture from AIS. In commercial buildings, AIS HMI machine control and monitoring panels are IP-enabled and can connect with smart-phones through internet protocol.  AIS building management HMIs enable a facilities manager to set the parameters remotely by using an application residing on their smart-phone or tablet.  With a unique ID assigned to each DAMS, BMS, EMS and BAS equipment, a facilities manager can control and monitor more than one DAMS, BMS, EMS and BAS remotely with AIS PoE touch screen HMIs and operator interfaces.

AIS Comfort Control Panels Offer Cost-Effective Building Automation Monitoring Solutions
Available in 7", 10.1", and 18.5" screen sizes, AIS Power over Ethernet (PoE) Touchscreen HMI Panel PCs combine power and data transfer via a standard twisted pair of Ethernet cabling over a network. The AIS PoE Panel PC features the Intel® Atom Processor and Power over Ethernet (PoE) technology built-in, allowing for installation into remote locations without the need to run power cables. With touch screen capability, ruggedized housing, and several I/O connections, AIS HMI terminals are cost effective solutions for all your building automation systems applications.

AIS's commercial off the shelf (COTS) predesigned, touch screen panel PCs provide a cost effective control interface which is easily integrated to new and existing installations, reducing the time to market and competitiveness where service, availability, reliability, and technology are paramount.

About AIS
Headquartered in Irvine, California, USA, American Industrial Systems, Inc. (AIS) offers in-house electronic and mechanical design, software development, manufacturing, production and quality control services. Offering one of the widest ranges of industrial computing solutions, AIS solutions are available in a multitude of configurations for industrial, oil & gas, military and marine applications. The company is fully committed to empowering, improving and delivering turnkey HMI, monitoring and display solutions for OEM, ODM and end-user customers. AIS is an ISO 9001:2008 certified supplier and manufacturer of rugged computers and displays, and received completion of the International Traffic in Arms Regulations (ITAR) registration from the Directorate of Defense Trade Controls (DDTC). For more information, visit: www.aispro.com, email: sales@aispro.com or contact: 1-888-485-6688.

Media Relations Contact:
American Industrial Systems, Inc.
Santiago Consunji
Business Development and Marketing Manager
Call: 1-949-681-7468 or Email: santiago.consunji@aispro.com