Piezo Stage Controller offers multi-axis trajectory control.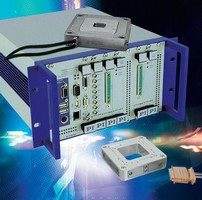 Piezo Stage Controller offers multi-axis trajectory control.
June 19, 2008 - Designed for piezo nanopositioning systems with up to 6 axes, E-712 features up to 50 kHz sensor update rate, 20-bit D/A converters, and 600 MHz processor. It has Ethernet interface for remote control, real-time operating system, integrated power amplifiers, and optional external high-power amplifiers. With higher-order polynomials-based digital linearization algorithms, unit offers positioning accuracy of 99.999% of travel range, and also eliminates tracking errors.

(Archive News Story - Products mentioned in this Archive News Story may or may not be available from the manufacturer.)

Additional information provided by manufacturer
Original Press release

Physik Instrumente (PI)
16 Albert St.
Auburn, MA, 01501
USA



New Piezo Stage Controller Provides Better Trajectory Control for Nanopositioning Systems with up to 6 Axes


Piezo system specialist PI's new E-712 digital piezo stage controller was designed for the most demanding accuracy and dynamic-performance requirements of multi-axis piezo nanopositioning systems. Its highly modular design allows flexible configuration, easy upgradeability and adaptation to changing requirements in any scanning or positioning application.

Features and Advantages of the E-712 Piezo Stage Controller

o Digital Controller of the Latest Generation: up to 50 kHz Sensor Update Rate; Highly Stable 20-bit D/A Converters, 600 MHz Processor
o Ethernet Interface for Remote Control Through the Internet
o Real-Time Operating System for Better Multi-Axis Trajectory Control
o Digital Linearization Algorithms Based on Higher-Order Polynomials Improve the Positioning Accuracy to 99.999% of the Travel Range
o Dynamic Digital Linearization Eliminates Tracking Errors in highly Dynamic Scanning Applications
o Interchangeability of Controller and Mechanics w/o Recalibration
o Flexible Interfacing: USB, Ethernet, RS-232, High-Bandwidth Analog
o Integrated Power Amplifiers, Optional External High-Power Amplifiers

Higher Precision Due to Real Time Operating System and Custom Algorithms

Due to its high-performance processor and real time operating system the controller can precisely control the trajectory of up to 6 axes even during high-velocity motion on a millisecond time scale.

Proprietary linearization algorithms deal with the nonlinear nature of PZT actuator material and reduce motion errors to 0.001% of the travel range. The high position sensor sampling rate of 50 kHz, provides plenty of margin even for ultra-fast piezo stages with sub-millisecond response times. 20 Bit DA-converters and ultra-low noise voltage amplifiers round out this cutting edge system.

Versatile Interfacing and Software Support

With USB, Ethernet, RS-232 and optional high-bandwidth analog interfaces the controller can adapt to any environment. Ethernet allows remote control and complete system setup, configuration and parameter readout through the Internet, a decisive advantage for OEMs. All parameters can be checked and reset via software. User-interface software, LabView drivers and DLLs are provides and PI's general command set (GCS) lets users swap the controller for any other PI unit in the future without rewriting their code.

Datasheets & More Information:

http://www.physikinstrumente.com/en/news/fullnews.php?newsid=140&NR

About PI

PI is a leading manufacturer of piezo stages, piezo linear motors and precision motion-control equipment for photonics, bio-nanotechnology & semiconductor applications. PI has been developing and manufacturing standard & custom precision products with piezoceramic and electromagnetic drives for 35+ years. The company has been ISO 9001 certified since 1994 and provides innovative, high-quality solutions for OEM and research. PI is present worldwide with eight subsidiaries and total staff of 450+


---


Start Your

Free


Subscription to


Industry Market Trends

.