Photoelectric Sensors withstand adverse conditions.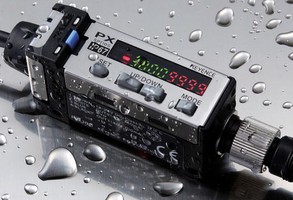 Photoelectric Sensors withstand adverse conditions.
March 27, 2008 - Supplied in stainless steel casing, PX Series is rated to IP-69K and can be subjected to high pressure (1,400 psi) washdown applications at temperatures to 176°F. Dynamic Stability Control continuously and automatically adjusts set point according to environmental conditions, and MEGA mode can blast through dust and other types of dirty environments. Thru beam PX-H71 (20 m) and reflective PX-H61 (2 m) produce visible red light, while PX-H72 (40 m) produces IR beam.

(Archive News Story - Products mentioned in this Archive News Story may or may not be available from the manufacturer.)
Original Press release

Keyence Corporation of America
669 River Dr., Suite 403
Elmwood Park, NJ, 07407
USA



High Performance Rugged Photoelectric Sensors


The KEYENCE PX Series Photoelectric Sensor represents the ultimate in rugged, high-performance sensors. Sensor heads carry an IP-69K environmental rating which allows them to be subjected to high pressure (1400psi) washdown applications, even at high temperatures (176° F)! Stainless steel casing prevents damage due to vibration and shock from tools or colliding with other objects. The sensor heads are backfilled with epoxy under vacuum conditions, filling every void in the sensor head cavity to prevent all-liquid substances and material from damaging the internal electronics. Tough, scratch resistant lenses provide an excellent complement to the sensor when subjected to harsh environments.

The PX-10 IP-67 rated amplifier can get splashed or rinsed without damaging the unit. The dual output feature allows the user to easily see when the sensor activates (Output 1) and when the low-light alarm turns on (Output 2). The Dynamic Stability Control (DSC) function continuously and automatically adjusts the set point according to the environmental conditions, thus allowing the line to be run longer between cleanings.

The PX's high power MEGA mode can blast through dust and other types of dirty environments for extended periods of time even with significant build-up on the lens. The result is stable detection which eliminates downtime and the need to frequently purchase replacement units. The low light alarm tells the user when the light level becomes too low for stable detection. Customized save-settings allow the user to revert back to their own settings in case something is accidentally changed while troubleshooting. The power-saving function automatically turns off the digital display which can reduce current consumption during operation.

Seven water and oil resistant types of sensor heads are available to meet the needs of high-pressure wash down applications. Ultra high intensity LED's provide incredible power by combining infrared or 4 element red LED's with optical-quality glass lenses. The PX-H71 thru beam (20m) and PX-H61 reflective (2m) produce a visible red light which allows easy alignment and takes the hassle out of set up. The PX-H72 produces an infra-red beam that can handle detecting 4x the detecting distances (40m) of conventional sensors and is unaffected by oil or dirt. For even better protection of these sensor heads, stainless steel guarded units are available. The PX Series also offers the space saving, hex shaped PX-H71TZ (20m) that has a 90° bend in the cable to help prevent entanglements.

If light intensity fluctuates due to dust or misalignment, the user can periodically adjust the set point with a touch of a button or a pulse from an external input. The Zero-Shift function allows the user to adjust the displayed value to better suit their needs. When using a reflective type, one can easily set the received background to 0. This is useful when there is little difference in light intensity between the background and a target.

For PX Sensor details, specs and applications: www.keyence.com/prs
Then scroll down to Photoelectric Sensor, PX Series.

For further information, contact Phil Melore, Engineering Manager, Keyence Corporation of America, 50 Tice Boulevard, Woodcliff Lake, NJ 07677. Tel: 888-539-3623 ext 70703, Fax: 201-930-1883 Email: KeyencePR@keyence.com

---
User comments about this story
Amplifier
Hey, I am looking for a sensor to use on our tree harvesters and from what I can see your product looks like it may be up to the job. The conditions are rough, vibration, temperature extremes, shock, moisture and chemical exposure are a constant occurance as well as a thick build up of oil,dirt and saw dust on the sensor face. My questions are, what sensor models should I be focussing on? Can they stand temperatures down to -40 degrees? and Are the amplifiers required to enable photo sensor operation after the sensor has already been taught? I don't want an extra device on the head because that is just another thing that can break down. Please reply as soon as possible.
Thankyou
Jemma
By
Jemma Needham on May 28, 2012 00:16
Reply to this comment


Start Your

Free


Subscription to


Industry Market Trends

.