Photoelectric Sensors feature IP69K rating.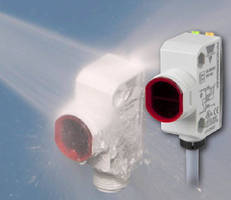 Photoelectric Sensors feature IP69K rating.
June 8, 2012 - Featuring M18 housing with IP67 and IP69K ratings, PH18 Series is suited for applications where high-pressure washdown is likely to occur. Flat sides enable units to be mounted as rectangular sensors via 2 mounting holes, while short threaded barrel lens enables mounting as M18 cylindrical sensors. Available in NPN or PNP versions, units offer diffuse, retro-reflective, polarized retro-reflective, and through-beam modes with fully adjustable sensing ranges of 1, 6.5, 5, and 20 m, respectively.

Original Press release

Carlo Gavazzi, Inc.
750 Hastings Lane
Buffalo Grove, IL, 60089
USA



Versatile Photoelectrics with IP69K Rating


Buffalo Grove, IL - Carlo Gavazzi is pleased to announce the launch of our PH18 Series photoelectric sensors in a versatile M18-rectangular housing, with advanced features and extended sensing ranges.

The new PH18 Series features a robust and flexible housing. With its flat sides, it can be mounted as a rectangular sensor, via its two mounting holes. And with its short threaded barrel lens, it can also be mounted as an M18 cylindrical sensor. A special mounting adapter is included to provide a flush mount installation. The new rugged housing is rated IP67, IP69K and has a prestigious ECOLAB certification.

Sensing ranges are exceptional for each model, and are fully adjustable via a potentiometer. Sensing modes include diffuse (1m sensing range), retro-reflective (6.5m sensing range), polarized retro-reflective (5m sensing range) and through-beam (20m sensing range).

The PH18 Series offers flexibility with your choice of NPN or PNP versions, each with normally open and normally closed outputs, two LED indicators that are viewable from any angle and three connection choices (2m PVC cable, M12 plug or short PVC cable with M12 plug).

With its IP69K rating, the PH18 Series is ideally suited for food and beverage, pharmaceutical, packaging and material handling applications, where high pressure washdown is likely to occur. They can also be used in other markets for general purpose applications.

The new generation PH18 Series carries cULus and CE approvals, giving assurance of high quality and safety. The sensors are available from Carlo Gavazzi's North American network of sales offices, distributors or www.GavazziOnline.com.

Questions regarding this press release should be directed to: info@carlogavazzi.com

---


Start Your

Free


Subscription to


Industry Market Trends

.