Product News: Test & Measuring Instruments, Software
Particle Size Analyzer Software speeds method development.
Press Release Summary: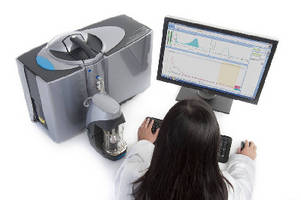 April 17, 2014 - Available for Mastersizer 3000 laser diffraction particle size analyzer, Mastersizer 3000 v3.00 software includes smart operational features, such as Optical Property Optimizer, which allows users to manipulate optical properties necessary to calculate particle size distributions from laser diffraction data, helping them to experimentally determine ideal settings for given application. Result emulation tool eases process of transferring methods from other particle sizing techniques.
Original Press Release
Malvern Instruments Mastersizer 3000 Particle Size Analyzer New Software Speeds Method Development
Press release date: April 8, 2014
Malvern, UK: New software for the Mastersizer 3000 laser diffraction particle size analyzer from Malvern Instruments continues to lighten the analytical workload associated with developing robust particle sizing methods for industrial applications. Smart new operational features, such as an Optical Property Optimizer, simplify and streamline the process of method development, while a new result emulation tool eases the process of transferring methods from other particle sizing techniques. A growing range of integrated visual guides, covering every aspect of the operation of the Mastersizer system, provide the reassurance of Malvern expertise at the bench top.

Laser diffraction systems offer highly automated, easy-to-use, 'push-button' particle sizing for diverse applications across industry. However, reaching this level of analytical efficiency requires careful development of a suitable measurement method. The new Mastersizer 3000 v3.00 software simplifies this by aiding users in selecting optical properties -  one of the last-remaining expert tasks in laser diffraction. The new version software also supports method transfer, helping laboratories to reach new levels of productivity.

The new Optical Property Optimizer (OPO) allows users to easily manipulate the optical properties necessary to calculate particle size distributions from laser diffraction data, helping them to experimentally determine the ideal settings for a given application. Use of the OPO is explained in an embedded video, which joins the growing series of walkthrough tutorials covering all aspects of laser diffraction analysis for both wet and dry dispersion measurements. Clearly presented and easy to understand, the new video mini-guides provide expert support at the instrument, maximizing productivity. Finally, efficiency of a lab can be further enhanced through the application of a new emulation tool that eases method transfer between alternative sizing techniques, such as sieving and laser diffraction. This helps to ensure successful application of a method when upgrading to laser diffraction and allows direct comparison with historic particle sizing data.

The Mastersizer 3000 laser diffraction particle size analyzer delivers precise, robust measurement of dry powders and liquid dispersions across the milli-, micro- and nano-meter size range, with an extended dynamic range that spans 0.01 to 3500 microns. The new software advances the capabilities of the laser diffraction user interface, supplying those with limited experience of particle sizing with the support needed to confidently access the full capabilities of the Mastersizer system.

For more information on how Malvern Mastersizer 3000 family visit the particle sizing webpages on the Malvern website at http://www.malvern.com/mastersizer3000

Malvern, Malvern Instruments, Mastersizer are registered trademarks of Malvern Instruments Ltd

About Malvern Instruments
Malvern provides the materials and biophysical characterization technology and expertise that enables scientists and engineers to understand and control the properties of dispersed systems. These systems range from proteins and polymers in solution, particle and nanoparticle suspensions and emulsions, through to sprays and aerosols, industrial bulk powders and high concentration slurries. Used at all stages of research, development and manufacturing, Malvern's materials characterization instruments provide critical information that helps accelerate research and product development, enhance and maintain product quality and optimize process efficiency.

Our products reflect Malvern's drive to exploit the latest technological innovations and our commitment to maximizing the potential of established techniques. They are used by both industry and academia, in sectors ranging from pharmaceuticals and biopharmaceuticals to bulk chemicals, cement, plastics and polymers, energy and the environment.

Malvern systems are used to measure particle size, particle shape, zeta potential, protein charge, molecular weight, mass, size and conformation, rheological properties and for chemical identification, advancing the understanding of dispersed systems across many different industries and applications.

Headquartered in Malvern, UK, Malvern Instruments has subsidiary organizations in all major European markets, North America, China, Japan and Korea, a joint venture in India, a global distributor network and applications laboratories around the world. www.malvern.com

Facebook: MalvernInstruments
Blog: www.materials-talks.com
Youtube: malverninstruments
Linked-In: malvern-instruments
Twitter: malvern_news
Google +: https://plus.google.com/+malvern 
                                              
USA contact:    
Marisa Fraser, Malvern Instruments Inc.
117 Flanders Road, Westborough, MA 01581-1042  USA
Tel:  +1 508 768 6400
Fax: +1 508 768 6403 
marisa.fraser@malvern.com
              
Please send sales enquiries to:
Alison Vines, Malvern Instruments Ltd
Enigma Business Park, Grovewood Road, Malvern, Worcestershire WR14 1XZ  UK          
Tel: +44 (0) 1684 892456
Fax: +44 (0) 1684 892789
salesinfo@malvern.com