Product News: Test & Measuring Instruments
Particle Characterization System identifies chemicals.
Press Release Summary: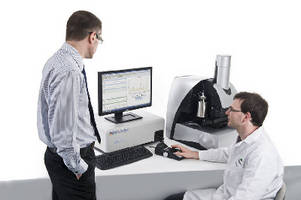 October 10, 2012 - Combining automated particle imaging with chemical identification of individual particles using Raman spectroscopy, Morphologi G3-ID measures particle size, shape, and chemical identity in single platform. SOP operation takes user from integrated sample dispersion for dry powders through to size, shape, and chemical analysis, with automatic selection, targeting, and chemical classification of thousands of particles. Measurements can be made on dry powders, suspensions, and membrane filters.
Original Press Release
Malvern Instruments Launches Morphologi G3-ID to Global Markets
Press release date: October 3, 2012
Malvern, UK: Following the completion of a highly successful early access program, Malvern Instruments has launched the Morphologi G3-ID particle characterization system to the global market. A live webinar on 2 October 2012 introduced participants to the unique capabilities of the system, which combines automated particle imaging with the chemical identification of individual particles using Raman spectroscopy. This fully automated system measures particle size, shape and chemical identity in a single platform.

The Morphologi G3-ID is ideally suited to solving complex particle characterization problems where particle size and shape do not provide sufficient information. The recent early access program was designed to enable users to explore specific applications and to allow full optimization of the product features. Key applications for which it is proving especially valuable are in determining component-specific particle properties of mixtures and blends, such as the particle size of drug ingredients in nasal sprays and asthma inhalers, and in the identification of unknown or suspicious particles in injectable or parenteral products, for example.

The Morphologi G3-ID is designed to meet a wide variety of needs and to enable all users, from particle characterization scientists with limited spectroscopy experience right through to experienced spectroscopists, to gain an in-depth understanding of particulate samples. Simple SOP operation takes the user from integrated sample dispersion for dry powders through to size, shape and chemical analysis, with automatic selection, targeting and chemical classification of thousands of individual particles. Measurements can be made on dry powders, suspensions and membrane filters.

For a full introduction to the Morphologi G3-ID visit www.malvern.com/morphologi-g3-id where a range of presentations and application notes is available to view or watch the latest video at www.youtube.com/watch?v=kl5dG_RS_tk
Malvern, Malvern Instruments and Morphologi are registered trademarks of Malvern Instruments Ltd

About Malvern Instruments
Malvern Instruments is a market leader in measuring performance controlling material properties. These include particle size, particle shape, zeta potential, molecular weight, size and conformation, rheological properties and chemical identification. Malvern delivers the systems, support and expertise that ensure the analytical integrity and productivity needed to drive research, development and manufacturing.

Malvern's measurement solutions for scientists, technologists and engineers advance continually through customer collaboration. Complementary materials characterization systems deliver inter-related measurements that reflect the complexities of particulates and disperse systems, nanomaterials and macromolecules. Combining intelligently implemented technologies with in-depth industry applications knowledge and support, Malvern provides customers with the competitive advantage they demand.

Headquartered in Malvern, UK, Malvern Instruments has subsidiary organizations in all major European markets, North America, China, Japan and Korea, a joint venture in India, a global distributor network and applications laboratories around the world. www.malvern.com

Facebook: MalvernInstruments
Blog: www.materials-talks.com
Youtube: malverninstruments
Linked-In: malvern-instruments
Twitter: malvern_news

USA contact:
Marisa Fraser, Malvern Instruments Inc.
117 Flanders Road, Westborough, MA 01581-1042  USA
Tel:  +1 508 768 6400 Fax: +1 508 768 6403  marisa.fraser@malvern.com

Please send sales enquiries to:
Alison Vines, Malvern Instruments Ltd
Enigma Business Park, Grovewood Road, Malvern, Worcestershire WR14 1XZ  UK
Tel: +44 (0) 1684 892456; Fax: +44 (0) 1684 892789 salesinfo@malvern.com