Particle Analyzer automatically determines shape and size.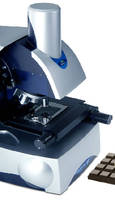 Particle Analyzer automatically determines shape and size.
June 24, 2009 - Available with large-volume wet cell, Morphologi G3 particle characterization system measures size, shape, and intensity of particles for range of wet dispersions and emulsions as well as dry powders and foreign particulate on filters. It can even gather data on chocolate that correlates with critical quality tests such as mouth feel, eliminating human subjectivity/variability. For every particle measured, there is choice of 20 different parameters to describe size and shape.

(Archive News Story - Products mentioned in this Archive News Story may or may not be available from the manufacturer.)
Original Press release

Malvern Instruments Ltd
Enigma Business Park
Malvern Worcestershire, , WR14 1XZ
United Kingdom



Malvern's Morphologi G3 a Powerful Tool for Analyzing Particle Shape and Size in Chocolate


In search of the perfect chocolate!

22 June 2009: Malvern, UK: Work using the Morphologi G3 automated particle characterization system from Malvern Instruments is demonstrating its efficacy for the fully automated analysis of particles in chocolate. The measurement of chocolate has been made possible with the introduction of a new large volume wet cell for the Morphologi G3. Significantly, the data obtained correlate with critical quality tests such as 'mouth feel'. A full report on the work can be freely downloaded at www.malvern.com/appnote_chocolate

Manufacturers traditionally rely on tasting panels to assess the mouth feel of chocolate - a key determinant of the success or failure of a product. However, taste panel observations are inevitably prone to human subjectivity and variability. The Morphologi G3, equipped with a new wet cell accessory, offers a rapid, reliable and repeatable method for determining mouth feel and further characterizing chocolate in terms of particle size, shape and intensity.

The most 'luxurious' chocolate tested was shown to have a significantly smaller proportion of large particles, a fact consistent with chocolate that feels smooth and creamy in the mouth. The Morphologi G3 also calculates various shape factors for every particle measured, including High Sensitivity (HS) Circularity, which provides an indication of sphericity. A chocolate with a more spherical particle morphology may have an improved mouth feel.

Chocolate and other liquid suspensions often present major challenges for analysis with conventional microscopy instrumentation since only limited sample volumes can be measured under a cover slip. Obtaining statistically relevant quantitative data is therefore problematic. With its 2 to 6 ml interior volume and large scan area, the new wet cell overcomes volume limitations of conventional techniques.

The Morphologi G3 measures size, shape and intensity of particles for a wide range of wet dispersions and emulsions. The large volume wet cell adds to the system's existing capabilities which include dry powder analysis and the characterization of foreign particulate material on filters.

With the Morphologi G3 for every particle measured there is a choice of 20 different parameters to describe size and shape. Software tools compare and cluster data to find differences and similarities between multiple measurements. With just a few clicks of the mouse, data is transformed into useful information, allowing the user to make decisions quickly and with confidence.

Download the full report at www.malvern.com/appnote_chocolate

Malvern, Malvern Instruments and Morphologi are registered trademarks of Malvern Instruments Ltd

About Malvern Instruments
Malvern Instruments provides a range of complementary materials characterization tools that deliver inter-related measurements reflecting the complexities of particulates and disperse systems, nanomaterials and macromolecules. Analytical instruments from Malvern are used in the characterization of a wide variety of materials, from industrial bulk powders to nanomaterials and delicate macromolecules. A broad portfolio of innovative technologies is combined with intelligent, user-friendly software. These systems deliver industrially relevant data enabling our customers to make the connection between micro (such as particle size) and macro (bulk) material properties (rheology) and chemical composition (chemical imaging).

Particle size, particle shape, zeta potential, molecular weight, chemical composition and rheological properties measurements are now joined by advanced chromatography solutions (GPC/SEC), extending Malvern's technologies for protein molecular weight, size and aggregation measurements, and synthetic polymer molecular weight and distribution. The company's laboratory, at-line, on-line and in-line solutions are proven in sectors as diverse as cement production and pharmaceutical drug discovery.

Headquartered in Malvern, UK, Malvern Instruments has subsidiary organizations in all major European markets, North America, China, Korea and Japan, a joint venture in India, a global distributor network and applications laboratories around the world. www.malvern.com

USA contact:
Marisa Fraser, Malvern Instruments Inc.
117 Flanders Road, Westborough, MA 01581-1042 USA
Tel: +1 508 768 6400 Fax: +1 508 768 6403 marisa.fraser@malvern.com

Please send sales enquiries to:
Alison Vines, Malvern Instruments Ltd
Enigma Business Park, Grovewood Road, Malvern, Worcestershire WR14 1XZ UK
Tel: +44 (0) 1684 892456; Fax: +44 (0) 1684 892789 salesinfo@malvern.com

---


Start Your

Free


Subscription to


Industry Market Trends

.