Product News: Test & Measuring Instruments
Parallel Test and Programming Kit targets gang applications.
Press Release Summary: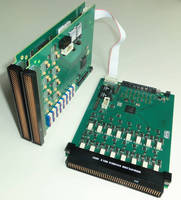 December 10, 2013 - Offering complete solution for applications based on Embedded System Access (ESA) technologies, SFX Gang Test Module Kit may be used for parallel test and programming of up to 16 or 32 different assemblies with integrated Mass Interconnect Interface. Kit comprises 3 interconnected modules – TAP transceiver, multipurpose parallel I/O unit, and power management unit – that have onboard Mass Interconnect Interfaces and are centrally controlled.
Original Press Release
New Module Kit for Parallel Test and Programming in Gang Applications
Press release date: November 28, 2013
GOEPEL electronic has extended its SCANFLEX® Boundary Scan hardware product range, now introducing the SFX Gang Test Module Kit as a new solution for parallel test and programming of up to 32 different assemblies with an integrated Mass Interconnect Interface from Virginia Panel. The kit, consisting of three basic modules, is an easy-to-integrate complete solution for parallel applications based on Embedded System Access (ESA) technologies providing throughput increase by factors of 16 or 32. As only one system controller is required, efficiency increases and investment costs are reduced. The module kit, particularly developed for gang applications, can be flexibly adjusted to various environments and different test and programming applications such as Flash programming, MCU programming or dynamic tests per Processor Emulation.

"Higher throughput and ideal integration are critical factors for the performance of modern test and programming solutions in production. Our new SCANFLEX module kits take account of these requirements", says Bettina Richter, Marketing Manager with GOEPEL electronic. "The integrated Virginia Panel interface provides users numerous standardized fixture solutions for the fast and flexible configuration of individual gang testers."

About the SFX Gang Test Module Kit
The SFX Gang Test Module Kit as a member of the SCANFLEX® hardware family is a complete solution for the parallel test or programming of up to 16 or 32 units. It consists of three interconnected module types – a TAP transceiver, a multipurpose parallel I/O unit, and a power management unit. For simple system integration, all modules have onboard Mass Interconnect Interfaces from Virginia Panel, and are controlled by a central controller.

The Gang Test Module Kit supports all modern technologies for Embedded System Access (ESA). In addition to Boundary Scan, these are Processor Emulation and Chip embedded Instruments. These methods allow for design validation, hardware debugging, production test as well as Flash and PLD programming without probe or nail utilization (non-intrusive).

Each site can be individually programmed in several parameters (protocols, voltage, delays etc.). Moreover, an integrated power module guarantees a safe voltage supply incl. U/I monitoring of each site and controlled shutdown in fault cases. The onboard Mass Interconnect Interface from VPC is particularly advantageous, as standardized test fixture solutions are provided.

About Embedded System Access (ESA):
ESA technologies enable the electrical access to embedded systems without utilizing mechanical nails or probe contacts (non-invasive methods). They apply design-integrated test and debug interfaces such as JTAG. In addition to Boundary Scan, ESA technologies include procedures like Chip Embedded Instruments, Processor Emulation Test, In-system Programming or Core Assisted Programming. ESA technologies are currently the most modern strategies for validation, test and debug as well as programming complex chips, boards, and complete units. They can be utilized throughout the entire product life cycle, enabling improved test coverage at reduced costs.

About GOEPEL electronic:
GOEPEL electronic is a worldwide leading vendor of innovative electronic and optical test and inspection systems, being the market leader for professional JTAG/Boundary Scan solutions for Embedded System Access (ESA). A network of branch offices, distributors and service partners ensures the global availability of the products as well as the support of the more than 8,000 system installations. Founded in 1991 and headquartered in Jena/Germany, GOEPEL electronic employs currently more than 200 employees and generated a revenue of 27 Million Euro in 2012 (ca. $36 Mio). GOEPEL electronic has continuously been ISO9001 certified since 1996 and has been honoured with TOP-JOB and TOP-100 awards for being one of the best medium-sized companies in Germany. GOEPEL electronic's products won several awards in recent years and are used by the leading companies in telecommunication, automotive, space and avionics, industrial controls, medical technology, and other industries. Further information about the company and its products can be found on the internet at www.goepel.com.

Press Contact:
GOEPEL electronic GmbH 
Stefan Meissner   
Goeschwitzer Str. 58-60/66
D-07745 Jena
Tel: +49-3641-6896-739
Fax: +49-3641-6896-944
Email: press@goepel.com
URL: www.goepel.com