Product News: Material Handling & Storage
Pallet and Panel Handling Systems feature modular design.
Press Release Summary: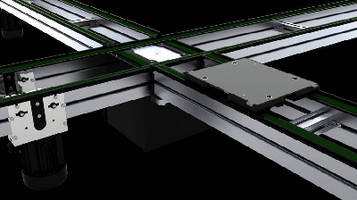 March 4, 2014 - Utilizing digital manufacturing process for customer's specific configuration, Glide-Line Pallet and Panel Handling Conveyor Systems are available with 14 mm drive shaft, 28 mm end roller, 40-tooth drive pulley with 5 mm pitch, and B14 flange motor that operates at 218 fpm. For ultra-quiet, maintenance-free operation, systems are available with 24 Vdc direct drive option, without gearbox and connecting shafts. All systems utilize T5 timing belts with steel tension members for positive drive.
Original Press Release
Introducing Glide-Line(TM) Pallet and Panel Handling Systems
Press release date: February 28, 2014
Glide-Line™ is:  Easy. Flexible. Precise. Fast.

Souderton, PA — Glide-Line ™ offers the most versatile multi-strand panel and pallet-handling conveyor solution available for the assembly automation industry. Advanced configuration tools streamline the design experience, ensuring the Glide-Line will meet your exact specifications. Glide-Line's digital manufacturing process means fast, efficient manufacture of your specific configuration, and our configuration tool generates real-time part numbers and pricing, so you go straight from design to purchase.

"Glide-Line was developed from the ground up with a few key driving factors in mind. First, it had to be robust and reliable. Second, it would be simple and easily maintained and serviced. Finally we insisted on flexible configurability, creating and efficient, hassle-free customer experience," said Kevin Mauger, President, Glide-Line.

With Glide-Line's modular design and simple construction, conveyors and systems can be built and shipped in days, not weeks. Our automated configuration tools generate complete assembly information packages, our entire assembly process with smart design and digital fabrication, making it possible to rapidly deploy without compromising quality or construction integrity. With our ability to make these components in house, Glide-Line supports highly configured or customized solutions quickly and just in time for assembly. Glide-Line is more than the next step in custom conveyor configuration; it represents the next generation in the conveyor design and fabrication process.

Details
• Configurable unites for Soldiworks
• Drive shaft 14mm, End roller 28mm, Drive pulley 5mm pitch, 40 tooth
• B14 flange motor – 218ft / minute
• 24VDC direct drive option for ultr-quiet maintenance free operation, absence of gearbox and connecting shafts offer ultimate design flexibility
• All rolling elements are precision ball bearing supported for long ultra-quiet, high-load maintenance free operation
• All Glide-Line systems utilize T5 timing belts with steel tension members for positive drive, durability and reduced maintenance
• Multiple, mounting drive configurations available AC single, 3 phase options, as well as 24VDC options

Information about Glide-Line – Glide-Line, a subsidiary of NCC Automated Systems has helped clients overcome automation and material handling challenges for over 25 years. Within NCC's customer portfolio are some of the longest established brands including The Hershey Company, PepsiCo, Unilever, General Mills, Starbucks, Procter & Gamble and Satisloh North America. In 2013 NCC Automated Systems and all business units developed, produced and delivered over 15 million in US dollars employing over 50 employees.

Glide-Line contact –
Chris Round
Director of Marketing
cround@glide-line.com
513-550-2820