Product News: Electrical Equipment & Systems
PXI Express Matrix Switch delivers 320 crosspoints.
Press Release Summary: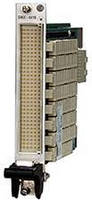 April 29, 2014 - Rated at 300 V and 2 A, Model SMX-4410 is designed for ATE systems where max signal integrity and density is desired. Programmable switch contains four (4 x 10) 2-wire building blocks that can be bussed together under software control to create 2 (8 x 10), 1 (8 x 20), 2 (4 x 20), or 1 (4 x 40) 2-wire matrices. Module incorporates extensive signal shielding and exposes shield pins on front panel connector for tying to cable shield. For preventative maintenance, self-test utility is provided.
Original Press Release
Flexible PXI Express 300 V Matrix Delivers 320 Crosspoints with User-programmable Configurations
Press release date: April 15, 2014
Irvine, CA — VTI Instruments is pleased to announce the introduction of its PXI Express SMX-4410 300 V/2 Amp matrix switch module designed for ATE systems where maximum signal integrity and density is desired. The SMX-4410 contains four (4X10) 2-wire building blocks that can be bussed together under software control to create 2 (8x10), or 1 (8x20), or 2 (4x20), or 1 (4x40) 2-wire matrices. With instrument-grade performance specifications and programmable configurations that help minimize costly and signal degrading external cabling, this module is well-suited to serve as the core element in an ATE switching system. A self-test utility is provided that can be used as part of routine preventative maintenance to determine relay health and product end-of-life. 

The SMX-4410 incorporates extensive signal shielding and exposes shield pins on the front panel connector for tying to the cable shield. This preserves signal integrity throughout the signal path by maintaining the signals at the same reference level as the UUT. In addition, meticulous signal routing is done for signal shielding and cross talk reduction, allowing the SMX-4410 to achieve superior signal integrity. This performance allows the card to be used with signals that have high frequency components and fast rise times and narrow pulse widths.

"VTI has always been a leader in signal switching systems for complex ATE systems, because of a simple philosophy", commented Tom Sarfi, VP of Product Management and Support. "We treat the switch module as part of a switching instrument that is fundamental to a sound system design and not just relays on card. We focus on maintaining signal integrity of test signals so precision measurements can be made on the unit under test with minimal signal degradation, ensuring confidence in test results" 

VTIs PXIe and LXI switch devices use the same path level system driver, allowing the SMX-4410 to be easily integrated with the company's award winning LXI high-density switch systems (EX1200 family), for those applications where switching needs exceed available slots in a PXI Express or hybrid mainframe.

To read more about the SMX-4410, please visit: http://marketing.vtiinstruments.com/e/12672/-4410-aspx-searchtext-SMX-4410/lsq2j/485578307

About VTI Instruments
VTI Instruments delivers precision modular instrumentation and systems for electronic signal distribution, acquisition, and monitoring, used in the world's most demanding test applications. The company's products and systems are used to monitor and record data that characterizes the physical integrity and performance of aircraft, engines, and other large structures, as well as automate the functional testing of complex electronic systems.

VTI is recognized as an industry leader with a reputation of providing reliable data, first time, every time. A sustained focus on innovation and technology enables VTIs customers to optimize their capital investment through product longevity, while ensuring unmatched measurement integrity and data reliability.

VTI Instruments is a unit of AMETEK, Inc., a leading global manufacturer of electronic instruments and electromechanical devices.

Contact Us:
VTI Sales
sales@vtiinstruments.com
(949)955-1894