Product News: Controls & Controllers, Electronic Components & Devices
PSE Controller, Module, and Design accelerate PoE development.
Press Release Summary: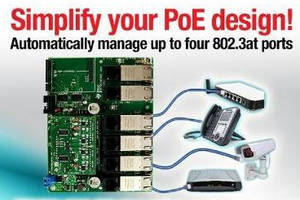 August 20, 2014 - Dual-layer PoE power sourcing equipment (PSE) evaluation module and TI Design based on TPS23861 quad-port PoE controller reduce development time when creating PoE-enabled network video recorders, IP phone switches, and wireless base stations. Minimizing material and build expense, TPS23861 evaluation board features 2 controllers with associated circuitry on 2-layer PCB. Plug-and-play evaluation module is also offered in auto mode, which eliminates need for host control.
Original Press Release
TI Speeds Power over Ethernet Development with Next-Generation PSE Controller
Press release date: August 13, 2014
Two-layer evaluation module and reference design simplify PoE design in network video recorders and Ethernet switches

DALLAS -- Easing design for rapidly growing Power over Ethernet (PoE) applications, Texas Instruments Incorporated (TI) (NASDAQ:TXN) introduced a two-layer PoE power sourcing equipment (PSE) evaluation module and TI Design based on TI's new TPS23861 PoE controller. The high-performance quad-port controller and reference design significantly reduce development time and cost when creating PoE-enabled network video recorders, IP phone switches and wireless base stations. For more information and to order samples, visit: www.ti.com/poedesign-pr.

Features and benefits of the PoE PSE design:

-- Reduces PoE development costs: The TPS23861 evaluation board features two controllers with associated circuitry on a two-layer printed-circuit board (PCB), minimizing material and build costs that often occur when using multiple boards.
-- Easy to use, "plug and play" operation: The evaluation module is also offered in auto mode, eliminating the need for host control.
-- IEEE-compliant: The TPS23861 passes the University of New Hampshire's Interoperability Lab and SIFO's test suites.
-- Thermal design flexibility: The TPS23861 consumption does not exceed 400 mW in any operating condition. The external FET architecture allows the design engineer to select the FET that best meets size, cost, and efficiency requirements.
-- Enhanced reliability: The four-point detection feature avoids system damage by preventing erroneous start-up.

For custom power management programmability and configuration, the TI Design's motherboard provides interfaces for two optional boards, the MSP-EXP430G2 LaunchPad(TM) and USB-to-GPIO Interface Adapter, which are both available in the TI eStore.

Leading PoE technology and design
With state-of-the-art semiconductor products and extensive systems expertise, TI enables manufacturers to quickly deliver higher-performance PoE products to end-equipment designers. TI is a founding member of the PoETec Consortium and University of New Hampshire's PoE Consortium. TI has been instrumental in IEEE's 802.3bt task force to deliver a higher power PoE standard. Visit TI's PoE page or the IEEE 802.3 series on the Power House blog to learn more about TI's commitment to PoE innovation.

Availability, packaging and pricing
Available now in a 28-pin TSSOP package, the TPS23861 PoE PSE controller is priced at US$3.40 each in 1,000-unit quantities. The TPS23861EVM-612 evaluation module is available for US$299 and includes a downloadable PI Commander graphical user interface. A fully tested and proven TIDA-00290 PoE reference design with schematic, bill of materials and design files is also available for download.

More information:

-- Check out TI's extensive line of PoE solutions.
-- Stay up to date on and contribute to the formation of the new IEEE standard for PoE with TI's IEEE blog series on the Power House blog.
-- Find dozens of PoE reference designs for any application in the TI Designs PowerLab(TM) Reference Design Library.
-- Ask questions and help solve problems in the Power over Ethernet Forum in the TI E2E(TM) Community

About Texas Instruments
Texas Instruments Incorporated (TI) is a global semiconductor design and manufacturing company that develops analog ICs and embedded processors. By employing the world's brightest minds, TI creates innovations that shape the future of technology. TI is helping more than 100,000 customers transform the future, today. Learn more at www.ti.com.

Trademarks
TI E2E, LaunchPad, and PowerLab are trademarks of Texas Instruments. All registered trademarks and other trademarks belong to their respective owners.

CONTACT: Heather Weir, Texas Instruments, 214-479-2143, weir@ti.com, OR Maemalynn Meanor, Golin, 972-341-2537, mmeanor@golin.com