Product News: Sensors, Monitors & Transducers
Optical Dissolved Oxygen Sensor provides years of service.
Press Release Summary: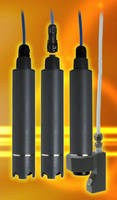 February 22, 2013 - Employing fluorescence quenching sensing element that eliminates need for frequent calibration or membrane replacement, Triton DO80 continuously analyzes oxygen level, water temperature, and air pressure to calculate dissolved oxygen values. Max error is less than 2%, repeatability is ±0.5%, and resolution is 0.01 ppm or 0.01% saturation. Developed for harsh municipal and industrial water treatment environments, sensor offers 0–20 ppm, 0%–200% percent saturation, or 0–6 psi outputs.
Original Press Release
New Optical Triton DO80 Sensor Features Enhanced Accuracy, Years of Service
Press release date: February 13, 2013
Ideal For Drinking Water, Surface Water Monitoring, AquaCulture
Municipal Wastewater Treatment, Industrial Water Treatment

Irvine, CA—Featuring a state-of-the-art fluorescence quenching (FQ) sensing element, the advanced second-generation Triton DO80 Dissolved Oxygen Sensor from Electro-Chemical Devices (ECD) delivers exceptionally accurate DO measurement in a wide range of municipal and industrial water treatment applications and now offers an ultra long life membrane cap for years of service.

The newly enhanced Triton DO80 now features an ultra long life membrane cap with no annual replacement required or recommended. Its breakthrough FQ sensing element eliminates the need for frequent calibration or membrane replacement. The DO80 interfaces seamlessly with ECD's new T80 Universal Transmitter for a versatile cost-saving measurement solution.

The highly reliable Triton DO80 Sensor is designed with precision FQ optical technology coupled with intelligent microprocessor-based electronics.  The self-monitoring DO8 stores calibration data within the sensor, which minimizes maintenance over long service intervals while providing stable, dependable DO measurement.

Highly accurate, the Triton DO80 Sensor features a maximum error of less than 2 percent, repeatability of ±0.5 percent and resolution of 0.01 ppm or 0.01 percent saturation.  It operates over a wide measurement range with three different outputs from 0 to 20 mg/l (0-20 ppm), 0-200 percent saturation or 0-400 hPa (0-6 psi). 

The rugged Triton DO80 Sensor was developed for harsh municipal and industrial water treatment environments. It is designed to withstand ambient temperatures from -20 to 60°C (0-140°F) and measures at temperatures from -5 to 50°C (20-120°F).  It withstands pressures up to 10 bar (145 psi).

The Triton DO80 Sensor relies on a proven fluorescence quenching method to determine the oxygen concentration of water.  It features a circular layer of optically-active, oxygen-sensitive molecules integrated into an easily replaceable cap.  This durable layer is highly permeable to oxygen and rapidly equilibrates to its surroundings.  The cap aligns the optically-active fluorescence layer above the two optical components inside the sensor—the emitter and detector.

The sensor's emitter flashes a green light at the layer and the layer fluoresces back a red light.  The duration and intensity of the fluorescence are directly dependent on the amount of oxygen in the layer.  With little to no oxygen in the layer, the response is longer and more intense.  The presence of oxygen, however, quenches the fluorescence effect producing a less intense response of shorter duration.

The Triton DO80 Sensor continuously analyzes the oxygen level, water temperature and air pressure to calculate dissolved oxygen values.  Via digital communications, the DO80 interfaces with the T80 Transmitter or ECD's C-22 Controller. The T80 Transmitter offers 4-20 mA communications with MODBUS RTU or HART®; the C22 offers 4-20 mA, PID, relays, timers and logic gates to communicate with a water treatment plant's control room.  The RS-485 digital signal is nearly immune to common EMI/RFI noise that is typically a problem in many plant environments.

Unlike amperometric sensors, the Triton DO80 has no membranes to replace, no electrolytes to refill and no anode/cathode assemblies to service or replace.  The only service required is the simple replacement of the DO80's sensor cap, which lasts two years or longer, and the occasional wiping of the sensor head with a damp rag.

About Electro-Chemical Devices
Electro-Chemical Devices (ECD) is a manufacturer of liquid analytical process instrumentation. Founded in 1977, ECD has been in business for over 30 years and has built its industry leading reputation by its commitment to customers through this basic approach: Provide quality products, develop technical innovations and provide responsive, knowledgeable service.

Company Contact:  Joe Bradley:  949-336-6060
Company Address:  1681 Kettering, Irvine, CA 92614 USA
Web:  http://www.ecdi.com  
Email:  sales@ecdi.com
Tel: 800-729-1333
Tel: 949-336-6060
Fax:  949-336-6064