Product News: Test & Measuring Instruments, Computer Hardware & Peripherals
OpenVPX Dual XMC Carrier Card has rugged ,6U design.
Press Release Summary: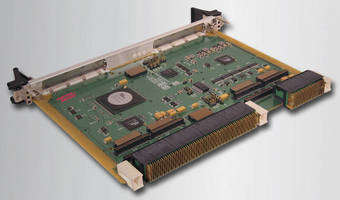 July 1, 2014 - Supporting 8 lanes of PCIe Gen2, VPX6-218 enables system designers to add up to 2 XMC (VITA 42.3) mezzanine module cards to OpenVPX-based embedded systems for defense and aerospace applications. PCIe interface communicates with host processor over VPX backplane. This fully OpenVPX®-compliant card can host two 25 W XMCs and support such high-performance mezzanine modules as Curtiss-Wrights XF07 FPGA XMC.

Original Press Release
Curtiss-Wright Introduces its First Rugged Dual XMC Carrier 6U OpenVPX Card
Press release date: June 16, 2014
New OpenVPX Carrier Eases Integration of XMC Mezzanine Cards into Embedded Systems for Defense & Aerospace Applications

EUROSATORY 2014 (BOOTH # HALL 6, STAND J 291), PARIS, FRANCE – JUNE 16-20, 2014 – Curtiss-Wright Corporation (NYSE: CW) today announced that its Defense Solutions division has introduced the new VPX6-218, a rugged 6U OpenVPX® XMC carrier card that enables system designers to quickly and easily add up to two (2) XMC (VITA 42.3) mezzanine module cards to their OpenVPX-based embedded systems. The fully rugged carrier card, which supports 8-lanes of PCIe Gen2, provides designers with the flexibility to expand their system architecture with the exact I/O their application requires. Its high speed, low latency PCIe interface communicates with the host processor over the VPX backplane. The VPX6-218 can host two (2) 25W XMCs and is designed to support today's high performance mezzanine modules, such as Curtiss-Wrights XF07 FPGA XMC, which require more power than typical I/O modules. This fully OpenVPX-compliant carrier card provides a lower power, reduced cost, and higher reliability alternative to its predecessor, the VPX6-215. The VPX6-218 speeds the integration of high-end XMC-based devices into VPX system designs. It is ideal for use in deployed applications intended for harsh defense and aerospace environments, including ground combat vehicles, and manned and unmanned airborne platforms.

"Designers of rugged deployed systems are looking for high reliability and optimal SWaP performance which our new VPX6-218 XMC Card Carrier delivers with a simplified, reduced component count architecture," said Lynn Bamford, Senior Vice President and General Manager, Defense Solutions division. "With its 'XMC-only' approach, the VPX6-218 boosts MTBF, cuts power dissipation and maximizes its dual XMC site thermal performance."

Curtiss-Wright End-to-End System Solutions

The VPX6-218 XMC carrier is designed to support high performance, high power XMC modules such as Curtiss-Wright's XMC-715 Graphics Controller and XF07-518 Quad 500MSPS 14b Xilinx® Kintex®-7 Digital Receiver, eliminating performance and thermal challenges for system designers. The new carrier complements a wide range of Curtiss-Wright COTS solutions for defense and aerospace, including our VPX6-1957 and VPX6-1958 Intel® Core® i7-based Single Board Computers and our CHAMP-AV8 and CHAMP-AV9 Digital Signal Processors (DSPs). Curtiss-Wright COTS solutions, which include modules available in VPX and XMC mezzanine form factors and a complete family of fully integrated subsystems, are designed for immediate deployment, delivering optimal performance in the most rugged environments.

Additional Information

Please contact the factory for additional information and availability. Click here for more information on the VPX6-218.

Sales inquiries: Please forward all Sales and reader service inquiries to Kavita Williams, Curtiss-Wright Defense Solutions, Tel: (661) 705-1142; Fax: (661) 705-1206; email: defensesales@curtisswright.com.

For more information about Curtiss-Wright's Defense Solutions division, please visit www.cwcdefense.com.

About Curtiss-Wright Corporation

Curtiss-Wright Corporation (NYSE:CW) is a global innovative company that delivers highly engineered, critical function products and services to the commercial, industrial, defense and energy markets.  Building on the heritage of Glenn Curtiss and the Wright brothers, Curtiss-Wright has a long tradition of providing reliable solutions through trusted customer relationships. The company employs approximately 10,000 people worldwide.  For more information, visit www.curtisswright.com.

NOTE: Trademarks are property of their respective owners

- See more at: http://cwcdefense.com/media-center/press-release/curtiss-wright-announces-6u-carrier-card-vpx6-218.html#sthash.RVDQSbQQ.dpuf

John Wranovics
Director of Public Relations
Curtiss-Wright Defense Solutions
jwranovics@curtisswright.com
Mobile: (925) 640-6402