Open Frame 1/8 Brick DC/DC Converters have DOSA footprint.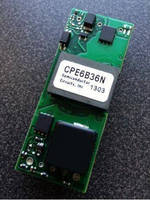 Open Frame 1/8 Brick DC/DC Converters have DOSA footprint.
September 24, 2013 - Available with 4:1 input voltage ranges of 9–36 Vdc and 18–72 Vdc, CPE series provide up to 96 W output at 55°C and with 200 lfm airflow. Output voltages of 3.3, 5, 12, 15, and 24 Vdc are available, and efficiencies exceed 90% from ½ through full load. Compliant with DOSA footprint, modules provide 2,250 Vdc input to output isolation and feature fixed-frequency operation. Max height is 0.404 in., and remote on/off is standard (positive or negative logic options are optionally available).

Original Press Release

Semiconductor Circuits, Inc.
14C Industrial Way
Atkinson, NH, 03811
USA



4:1 Input High Performance 1/8th Brick DC-DC Converter Family


Atkinson, NH — Semiconductor Circuits, Inc. introduces new members of its "Cool Power Technology" product family featuring a 4:1 input voltage ranges of 9 – 36 Vdc, and 18 - 72 Vdc and up to 96 Watts output in a DOSA standard 1/8th brick DC-DC converter. These open frame modules provide up to 96 Watts of output power @ 55C & 200lfm of airflow – ideal for distributed power architecture applications or as a fully regulated intermediate bus converter. These modules are compliant with DOSA footprint and interface standards and provide 2250 VDC input to output isolation. Output voltages of 3.3, 5, 12, 15 and 24Vdc are available. Custom values are also being manufactured for particular industries such as Solar Power, Aircraft and POE communications.

The CPE series is a high efficiency module product family with efficiencies exceeding 90% from ½ load through full load. They meet EN 60950 basic insulation requirements and are UL94 V-0 flammability rated. Safety certification by TUV has been granted for most members of the family and the remaining ones are in the certification process. The modules comply with typical industry requirements including no load operation, 2 X nominal input voltage transient and pre-biased load startup.

Other features include: fixed-frequency operation, auto-restart OVP, OCP & OTP protections, UVLO, remote sense and +10%/-20% output voltage trim using industry standard equations. Remote ON/OFF is standard with positive or negative logic options available.

This product set features standard 1/8th brick pinout and dimensions of 2.3" L x 0.9" W (58.4mm x 22.9mm.) It has a maximum height of 10.3mm (0.404") which accommodates tight card spacing with minimal airflow blockage of downstream components.

A product brief is available at www.dcdc.com & sample quantities can be ordered directly from stock via the website. Please contact sales@dcdc.com or call 1-888-GET-DCDC (1-888-438-3232) toll free for OEM pricing and availability. Other output voltages in the 4:1 input series are available upon request. We also welcome quick-turn modifications and custom configurations to meet our customer's particular requirements.

Semiconductor Circuits, Inc. has been designing and manufacturing AC/DC & DC-DC modules for over 45 years (founded in 1966.) Module applications include: industrial, test, telecom/communications, networking, data-processing, railway, military, medical and aerospace. Please visit our website at www.dcdc.com for more information.

Semiconductor Circuits, Inc., 14 Industrial Way, Atkinson, NH 03811. 1-888-GET-DCDC (1-888-438-3232) or sales@dcdc.com .

---