Product News: Software, Green & Clean
OTT Media Monitoring Software operates in cloud.
Press Release Summary: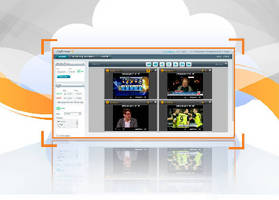 March 31, 2014 - Available as cloud-based subscription service, AnyStream IQTM 2.0 records, logs, and monitors OTT content. HDS HTTP Dynamic Streaming capture enables user to record and monitor HDS streams in multiple bit rates or in pre-selected bit rate and extract and display captions. With Advanced Alert Reporting, all alerts related to channel are displayed in one centralized place. Product is suited for broadcasters, content creators, aggregators, and distributors of streaming content.
Original Press Release
NAB 2014: Digital Nirvana Delivers Latest Version of Anystream IQ - The Industry's First OTT Media Monitoring System in the Cloud
Press release date: March 21, 2014
Digital Nirvana offers Broadcast and OTT Media Solutions to "Monitor Anywhere" across the entire Media Ecosystem

Newark, CA, – Digital Nirvana will bring its latest generation broadcast monitoring and content delivery solutions to the NAB 2014 convention (Booth SU11017) from April 5-10th at the Las Vegas Convention Center. On display at the Digital Nirvana booth will be AnyStream IQTM 2.0, the latest version of the industry's leading cloud-based solution for reliably recording, logging and monitoring OTT content.

"With the explosive growth of streaming content to desktops, tablets and mobile phones, reliable OTT monitoring in the cloud has become vital," said Hiren Hindocha, CEO of Digital Nirvana. "As live streams increase in popularity, so does the importance of reliable OTT monitoring. It's our vision to expand our offerings beyond traditional broadcast media, offering powerful tools to help our customers monitor and manage any type of media in the entire ecosystem. Our mission is to deliver these tools with an ideal combination of price and performance."

New features in version 2.0 include support for HDS capture and Advanced Alert Reporting. HDS (HTTP Dynamic Streaming) capture enables the user to record and monitor HDS streams in multiple bit rates or in a pre-selected bit rate and extract and display captions. With Advanced Alert Reporting, all alerts related to a channel are displayed in one, centralized place.

AnyStream IQ 2.0 OTT Monitoring Solution
AnyStream IQ is an ideal tool for broadcasters, content creators, aggregators and distributors of streaming content. Because it is a cloud-based solution, there is no hardware to install. A simple browser-based interface allows users to access, record, monitor, log, report and search streams in FLV, HDS, and HLS streaming formats. Additionally, AnyStream IQ helps ensure compliance with FCC-mandated web captioning.

As a cloud-based subscription service, Anystream IQ allows customers to move monitoring costs from a capital to an operating expense and spreads monitoring expense over twelve months. It's easy to add channels to the current system and to expand to hundreds of channels if needed.

Scalable, modular and accessible, AnyStream IQ's OTT media monitoring technology is a feature rich and highly cost-effective way to monitor streamed content.

Broadcasters are invited to schedule an appointment with Digital Nirvana at the NAB Show to learn more.

About Digital Nirvana
Since 1996, Digital Nirvana has been empowering customers with innovative knowledge management technologies. By combining media and digital technology expertise, Digital Nirvana makes it possible for organizations to streamline operations and gain competitive advantage with advanced product and service offerings. The company's product portfolio includes the industry-leading Monitor IQ broadcast monitoring system, AnyStream IQ OTT monitoring solution, and the MediaPro content repurposing system. A comprehensive service portfolio includes media monitoring and analysis, market intelligence and analytics, and learning management services. Digital Nirvana is headquartered in Fremont, California with offices in Hyderabad and Coimbatore, India. For more information visit http://www.digital-nirvana.com.

For more information, contact:
Arco Groenenberg
Digital Nirvana
3984 Washington Blvd. Suite 355
Fremont, CA 94538-4954
415-310-2646
arco@digital-nirvana.com
www.digital-nirvana.com