Notebook Computer features 100 GB HDD at 7,200 rpm.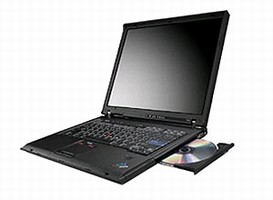 Notebook Computer features 100 GB HDD at 7,200 rpm.
October 21, 2005 - Equipped with 2.2 GHz Intel Pentium M processor with 2 MB L2 cache and 533 MHz FSB, ThinkPad® T43p includes 533 MHz DDR2 SO DIMM memory, 1 GB standard memory, Intel PRO/Wireless 2200BG, Rescue and Recovery, and UltraNav dual-pointing system with TrackPoint. Integrated fingerprint reader helps prevent unauthorized access to notebook and data. ThinkPad T43p is suited for displaying detailed designs, demonstrations, and high-powered presentations.

(Archive News Story - Products mentioned in this Archive News Story may or may not be available from the manufacturer.)
Original Press release

IBM (Corporate Headquarters)
1 New Orchard Rd.
Armonk, NY, 10504-1783
USA




New ThinkPad T43p Notebook - Perfect Balance of Performance and Portability




At a glance
The ThinkPad T43p notebook features:
Intel Pentium M processor 780 (2.2 GHz, 2 MB L2 cache, and 533 MHz front-side bus (FSB))
Sleek profile and light weight
533 MHz FSB with 533 MHz double data rate (DDR2) SO DIMM memory
1 GB of memory standard expandable to 2.0 GB
Rescue and Recovery
UltraNav dual-pointing system with TrackPoint and customized touchpad
ThinkPad HDD Shock Absorber(TM)
100 GB high-speed HDD at 7,200 rpm
Multi-Burner DVD Recordable 4x max, Ultrabay Slim drive
Standard integrated communications of V.906 modem (V.927-designed)
1 Gigabit Ethernet, Bluetooth wireless technology, and Embedded Security Subsystem 2.0; Trusted Computing Group (TCG)-compliant
Three-year limited warranty; one-year limited warranty on battery
IBM Support Center: 800-426-7378

Overview
The ThinkPad® T43p notebook delivers high performance in a lightweight package. It is an ideal companion or alternative to your workstation for displaying detailed designs, demonstrations, and high-powered presentations.

What's new
New on this system is a 100 GB HDD (7,200 rpm) and Intel(TM) Pentium(TM) M processor 780.

Data protection
Integrated fingerprint reader technology helps to prevent unauthorized access to your ThinkPad notebook and data.

Fingerprint reader is integrated into the palm rest.
Combine the integrated fingerprint reader with IBM Password Manager and the Embedded Security Subsystem for strong security measures that are easy to follow.
The fingerprint reader offers a more convenient solution - Authenticate at system startup and log into Windows(TM) with a swipe of your finger.

The Active Protection system, a ThinkVantage(TM) technology, helps protect your HDD from some damage that could be caused by shock. A system board-mounted sensor continuously monitors your ThinkPad notebook for sudden movement and temporarily parks the HDD read/write head when a fall or similar event is predicted.

Latest technology
Intel Centrino mobile technology on this system
Intel Pentium M processor family
Intel PRO/Wireless family
Intel 915PM chipset family
ATI Mobility FIRE GL V3200 (128 MB) graphics chipset for clear, crisp 3D images with full OpenGL support. OpenGL is a standard for 3D graphics.
UltraNav dual-pointing system, featuring TrackPoint® and customized touchpad for the ultimate in pointing flexibility.
UltraConnect antenna to help optimize frequency coverage and performance for improved wireless LAN connectivity around the world.
Excellent features and options

Intel PRO/Wireless 2200BG (Intel 11b/g)
Access Connections to help manage wired and wireless communications
Rescue and Recovery(TM)
358.1-mm (14.1-in) TFT display with 1400 x 1050 resolution
Windows XP Professional with selected applications
Ultrabay(TM) Slim bay for fast and easy hot- and warm-swapping of selected options
Long battery operation: Up to 4.9 hours with the nine-cell system battery, and up to 6.8 hours with the nine-cell system battery and Ultrabay Slim battery options.

Light and portable: The ThinkPad T43p notebook is approximately 31 mm to 36 mm (1.2 to 1.4 in) thin11 with optimal travel weight starting at 2.2 kg (4.9 lb)12 with travel bezel and nine-cell battery.

The titanium and magnesium composite covers give added strength.

Robust system manageability: The ThinkPad T43p notebook features support for IBM Director Agent and is designed to the PXE 2.1 manageability requirements for mobile systems.

Availability date
October 11, 2005


---


Start Your

Free


Subscription to


Industry Market Trends

.