Product News: Vision Systems
Networked IP Camera System is suited for video surveillance.
Press Release Summary: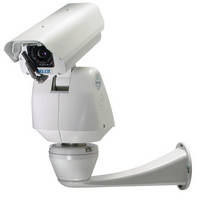 February 25, 2013 - Available in standard and pressurized models, Pelco Esprit® SE IP Integrated PTZ Camera System integrates camera and lens, pan-and-tilt unit, multiprotocol receiver, and Sarix-based H.264 encoder. Features include dynamic window blanking, auto tracking, internal scheduling clock, electronic image stabilization, and multilingual menus. Designed and built for continuous use, system offers dynamic remote positioning capabilities and can remain completely operational in up to 90 mph wind.
Original Press Release
Schneider Electric Announces New Esprit SE IP Networked Camera System
Press release date: February 13, 2013
The Esprit SE IP Integrated PTZ camera system from Schneider Electric, offers new high-tech, highperformance video surveillance benefits for security resellers, dealers, installers, and end-users

DALLAS – Schneider Electric announced the release and availability of its all-new Pelco Esprit® SE IP Integrated PTZ Camera System including both standard and pressurized models for video surveillance and IP network connectivity. Built upon the Esprit SE positioning system platform, the system now features dynamic window blanking, auto tracking, internal scheduling clock, electronic image stabilization, and multilanguage menus – all formerly reserved only for high-speed domes.

Designed and built for continuous use featuring an integrated camera and lens, pan-and-tilt unit, multiprotocol receiver, and Sarix-based H.264 encoder, Esprit SE IP offers dynamic remote positioning capabilities and is capable of remaining completely operational in up to 90 mile-per-hour wind conditions.

The industry-leading integrated system offers responsive, high-speed positioning capabilities, fully configurable video streaming, easy browser-based set-up, outstanding weather protection, and a level of aesthetics and ease-of-installation that remains unmatched in the video security market.

Additional features of the Esprit SE IP system include:
• Connectivity and monitoring: With the ability to control and monitor video over IP networks, Esprit SE IP offers H.264, MPEG-4, and MJPEG compression.
• Smart Compliance: System meets global IP physical standard, and ONVIF compliance.
• Flexibility: Features an encoder, receiver, pan/tilt, and enclosure with integrated optics package (IOP), or pressurized integrated optics cartridge (IOC), NTSC/PAL and a tilt range of +36° to –85° from Horizontal for optimal visual surveillance. It also has an on-screen compass and tilt display to track the angle of the picture.
• Durability, especially in extreme weather: Operational in wind speeds of up to 90 mph and can withstand wind speeds of up to 130 mph. Features an integrated window wiper that does not interfere with the viewing range, along with a built-in heater that defrosts and defogs the window and also serves as a sun shroud and insulation blanket.
• Simplified Maintenance: Designed for minimal maintenance with no gears to adjust and the system's IOC contains dry nitrogen pressurized to 10 psi, which protects the environment inside the cartridge, eliminating internal condensation or corrosion.

"Pelco by Schneider Electric products are long respected for being innovative, well-built, and reliable," said Charlie Shilling, product manager, Schneider Electric. "Building off this strong foundation, we realize our customers are demanding open IP-based solutions to meet their evolving security needs. We're addressing the high-performance, environmental PTZ requirement with the Esprit SE IP system."

With its Pelco video portfolio, Schneider Electric is a world leader in the design, development and manufacture of video security systems. The Schneider Electric Esprit SE IP series PTZ cameras offer high-quality video in any direction featuring a 36x optical zoom, an ideal security camera for any system.

For more information about Esprit SE IP please visit: http://www.pelco.com/sites/global/en/products/camera-solutions/rangepresentation.page?p_function_id=15004&p_family_id=20018&p_range_id=61530

About Schneider Electric
As a global specialist in energy management with operations in more than 100 countries, Schneider Electric offers integrated solutions across multiple market segments, including leadership positions in Utilities & Infrastructures, Industries & Machine Manufacturers, Non-residential Buildings, Data Centers & Networks and Residential. Focused on making energy safe, reliable, efficient, productive and green, the company's 130,000 plus employees achieved sales of about 31 billion US dollars (22.4 billion euros) in 2011, through an active commitment to help individuals and organizations make the most of their energy.

www.schneider-electric.com/us