Product News: Computer Hardware & Peripherals
NAS Devices support real-time web browsing.
Press Release Summary: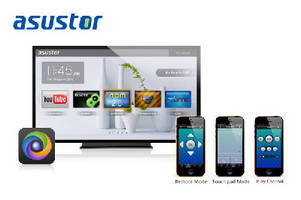 December 5, 2013 - With ASUSTOR Portal app, users of ASUSTOR NAS Devices can access variety of NAS multimedia functions from HDMI display, including Web browsing, real-time feeds from surveillance center, and multimedia playback. AiRemote, available for both iOS and Android, provides users with 2 different interface modes. Users can choose from Remote Mode or Touchpad Mode to control multimedia playback from Boxee and XBMC along with functions found in ASUSTOR Portal.
Original Press Release
ASUSTOR Unveils TV Apps ASUSTOR Portal and Upgraded AiRemote
Press release date: November 25, 2013
New functionality for local display, real-time Web browsing, surveillance monitoring, comprehensive ASUSTOR Portal for TV provides PC-free experience, upgraded AiRemote adds "Remote Mode" and "Touchpad Mode" interfaces, provides appropriate toolbar for application in use, ready for use with Boxee, XBMC and Surveillance Center.

Taipei, Taiwan — ASUSTOR Inc., a leading innovator and provider of network storage solutions, today announced the release of two new powerful multimedia functions for its ASUSTOR NAS devices. These two new functions are ASUSTOR Portal and AiRemote. ASUSTOR Portal is a local output platform that allows users to access a variety of NAS multimedia functions from an HDMI display. Users need only install the ASUSTOR Portal App from ASUSTOR's App Central and then connect their NAS to any HDMI ready display to enjoy functions such as Web browsing, real-time feeds from Surveillance Center and multimedia playback. Furthermore, users will be able to use ADM to configure the wallpaper for ASUSTOR Portal along with adding their favorite websites to the portal which will then appear as thumbnail shortcuts. AiRemote, available for both iOS and Android, is an exclusive remote app created by ASUSTOR for mobile devices. The newly upgraded version of AiRemote provides users with two different interface modes. Users can now choose from either Remote Mode or Touchpad Mode to control multimedia playback from Boxee and XBMC along with functions found in the new ASUSTOR Portal.

"We are very excited to expand multimedia functionality through these two new applications. Now users can enjoy more convenience than ever before when setting up local multimedia playback," said Steve Huang, Product Manager at ASUSTOR. "Further integrating Web browsing and live feed monitoring from ASUSTOR's Surveillance Center allows us to take additional steps in meeting the increasingly varied demands of modern users."

ASUSTOR Portal: ASUSTOR Portal is an App that provides a local output platform for ASUSTOR NAS devices. When installing Boxee or XBMC multimedia player Apps on the NAS, ASUSTOR Portal will also be automatically installed. Users also have the option of manually installing ASUSTOR Portal through ASUSTOR's App Central. ASUSTOR Portal's thumbnail shortcuts allow users to access Websites such as the ADM desktop or YouTube conveniently and without having to use a PC. Additionally, ASUSTOR Portal supports customized settings such as the uploading of wallpaper, saving Web pages as favorites and configuring the order of the thumbnail shortcuts in the portal which allows each and every user to create a customized portal desktop for themselves. Furthermore, ASUSTOR Portal supports the real-time monitoring of surveillance feeds from ASUSTOR's Surveillance Center. After installing Surveillance Center, users will be able to view 4 different feeds on their local display without having to go through a PC. Users can also further use AiRemote or a USB mouse to control all functionality.

AiRemote:  Available for both iOS and Android, AiRemote can be used to control functionality for Surveillance Center, multimedia playback and all Web pages found in the ASUSTOR Portal. Based on the application in use, AiRemote will provide an appropriate toolbar to allow users to control functionality. AiRemote can be used to control multimedia playback from both Boxee and XBMC. The newly added "Player Control" toolbar allows users to control the playback of videos with functions such as play, pause, stop, fast-forward, volume controls, etc. Additionally, can use the "Touchpad Mode" along with the Chrome Web browser in ASUSTOR Portal to surf the Web on their big screen. Users will be provided with a toolbar that gives them functions such as forward, back, search, zoom, etc. AiRemote allows users to turn their mobile device into a comprehensive and multifunctional remote control.

ASUSTOR NAS features available on ASUSTOR Portal:

6 Series: Boxee, XBMC, Surveillance Center and Chrome Browser
3 Series: XMBC, Surveillance Center and Chrome Browser
2TE Series: XMBC, Surveillance Center and Chrome Browser

For more product information please visit: http://www.asustor.com

Live demo: http://www.asustor.com/live_demo

About ASUSTOR
Founded in 2011, ASUSTOR Inc., a subsidiary of ASUSTeK Computer Inc., is a leading innovator and provider of private cloud storage (network attached storage) and video surveillance (network video recorder) solutions. ASUSTOR is devoted to providing the world with unparalleled user experiences and the most complete set of network storage solutions possible.

Press Contact: marketing@asustor.com

© 2013 ASUSTOR Inc. ASUSTOR and all other ASUSTOR product names are trademarks or registered trademarks of ASUSTOR Inc. All other product and company names mentioned herein are the trademarks of their respective owners.

Vera Wang
Marketing & Sales | ASUSTOR Inc.
www.asustor.com
Office:  +886 7737-0888 ext 2002
Mobile:  +886 936-840409
Email :  verawang@asustor.com
Skype: peiruwangvera
MSN: peiruwangvera@hotmail.com

Follow our latest news at https://www.facebook.com/ASUSTOR.INC