N-Channel MOSFET targets isolated DC-DC applications.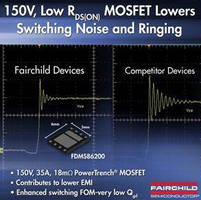 N-Channel MOSFET targets isolated DC-DC applications.
July 29, 2010 - Produced using advanced Power Trench® process, 150 V Model FDMS86200 features low RDS(ON) of 17 mW max, gate to source voltage of ±20 V, and operating temperature range of -55 to +150°C. Shielded-gate MOSFET technology minimizes switching noise, ringing, and EMI. Housed in 5 x 6 mm MLP package, device can optimize efficiency in LED lighting as well as solar and industrial designs.

(Archive News Story - Products mentioned in this Archive News Story may or may not be available from the manufacturer.)
Original Press release

Fairchild Semiconductor
3001 Orchard Parkway
San Jose, CA, 95134
USA



Fairchild Semiconductor's 150V Low RDS(ON) MOSFET Enables Higher Performance in Isolated DC-DC Applications


Increases Efficiency and Output Power in LED Lighting, Solar and Industrial Designs

SAN JOSE, Calif. - DC-DC designers need MOSFET solutions that offer lower switching losses and less noise in a compact footprint. Leveraging its advanced process and packaging technologies, as well as system expertise, Fairchild Semiconductor (NYSE: FCS) has released a 150V MOSFET with low RDS(ON) (17mOhm MAX) and an optimized Figure of Merit (FOM) (17mOhm * 33nCº Max) to bring high efficiency, lower power dissipation and less heat in a 5mm x 6mm MLP footprint.

The FDMS86200 is designed using shielded-gate MOSFET technology that brings lower switching noise and ringing to the design, contributing to lower EMI. Without this proprietary technology feature, a designer would be forced to choose a 200V MOSFET, which would double the RDS(ON) and lower the overall efficiency. Fairchild's FDMS86200 also features an improved body diode that boosts switching performance by reducing losses.

Fairchild offers the broadest MOSFET portfolio in the industry, so a designer can choose multiple technologies for the right MOSFET for the application. This unique combination of functional, process and packaging innovation and overall system expertise enables greater innovation for electronic manufacturers. Fairchild's MOSFET portfolio has a wide range of breakdown voltages (20V-1000V) and advanced packaging technologies ranging from 1mm x 1.5mm WL-CSP to 20mm x 26mm TO264 packaging.
Price: $1.92 in 1,000 piece quantities

Availability: samples available now

Delivery: 12-15 weeks ARO

Contact Information:

To contact Fairchild Semiconductor about this product, please go to: http://www.fairchildsemi.com/cf/sales_contacts/.

For information on other products, design tools and sales contacts, please visit: http://www.fairchildsemi.com.

For a datasheet in PDF format, please go to:
http://www.fairchildsemi.com/ds/FD/FDMS86200.pdf

Follow us on Twitter @ http://twitter.com/fairchildSemi

View product and company videos, listen to podcasts and comment on our blog @ http://www.fairchildsemi.com/engineeringconnections

Visit us on facebook @ http://www.facebook.com/FairchildSemiconductor

About Fairchild Semiconductor:

Fairchild Semiconductor (NYSE: FCS) - global presence, local support, smart ideas. Fairchild delivers energy-efficient, easy-to-use and value-added semiconductor solutions for power and mobile designs. We help our customers differentiate their products and solve difficult technical challenges with our expertise in power and signal path products. Please contact us on the web at www.fairchildsemi.com.

---