Product News: Machinery & Machining Tools, Fasteners & Hardware
Multipurpose Milling Cutters offer up to 8 indexable positions.
Press Release Summary: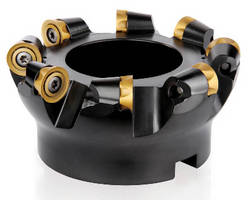 January 29, 2013 - Specifically engineered for titanium and stainless steel applications, KSRM™ Series supports pocketing, profiling, ramping, and plunging with up to 1 mm fz. Inserts are available in 12 and 16 mm dia for KSRM face mills and screw-on, Weldon®, and cylindrical KSRM end mills. SGE styles are designed for medium and heavy milling tasks, while ELE inserts should be used at low cutting forces and to avoid edge build-up. In addition, 20 mm dia insert is available for KSRM face mill models.
Original Press Release
KSRM - A New Multipurpose Line of Milling Cutters from Kennametal
Press release date: January 28, 2013
The KSRM™ line of cutters is a new, multipurpose milling solution from Kennametal specifically engineered for titanium and stainless steel applications. Their design enables pocketing, profiling, ramping, and plunging with up to 1mm fz. KSRM milling cutters deliver consistent performance and excellent metal removal rates with the lowest cutting forces for roughing applications.

All KSRM inserts offer up to eight indexable positions for fast and accurate insert changes. These inserts were designed with a high positive rake angle and stronger cutting edges for lower cutting forces when machining titanium.

KSRM inserts are available in 12mm and 16mm diameters for KSRM face mills and screw-on, Weldon®, and cylindrical KSRM end mills. These diameters are offered in SGE and ELE insert styles, which are the first choice for titanium applications. SGE inserts are designed for medium and heavy milling tasks, whereas ELE inserts should be used at low cutting forces and to avoid edge build-up.

A 20mm diameter insert is also available for compatible KSRM face mill models. These inserts are offered in three styles. ELF inserts are designed for low cutting forces to avoid edge build-up. SGF and SHF inserts are for general purpose and heavy-duty roughing applications, respectively.

KSRM tool bodies are offered in a range of internally cooled face mill and end mill styles with pocketing, ramping, plunging, and helical interpolation capabilities. All are designed with a high clearance for superior plunging, ramping, and chip load capacities. An anti-rotation screw delivers excellent stability with higher feed rates and cutting forces. The anti-rotation components also provide eight indexable positions for 12mm and 16mm inserts. Face mills utilizing 20mm inserts are engineered for roughing titanium with large depths of cut through positive geometry inserts. These mills allow six indexable rotations and are used for diameters from 60–200mm.

Kennametal Inc. (NYSE: KMT) delivers productivity to customers seeking peak performance in demanding environments by providing innovative custom and standard wear-resistant solutions. This proven productivity is enabled through our advanced materials sciences and application knowledge. Our commitment to a sustainable environment provides additional value to our customers. Companies operating in everything from airframes to coal mining, from engines to oil wells and from turbochargers to construction recognize Kennametal for extraordinary contributions to their value chains. In fiscal year 2012, customers bought approximately $3 billion of Kennametal products and services – delivered by our approximately 13,000 talented employees doing business in more than 60 countries – with more than 50 percent of these revenues coming from outside North America. Visit us at www.kennametal.com

Kennametal Inc.
1600 Technology Way
PO Box 231
Latrobe, PA 15650-0231
USA
Kathy LINDEN
Phone: 724 539 5698
Fax: 724 539 6766
kathy.linden@kennametal.com

Kennametal Shared Services GmbH
Wehlauer Strasse 73
D-90766 Fuerth
Carsten GROMOLL
Phone: +49 911 9735 557
Fax: +49 911 9735 551
carsten.gromoll@kennametal.com