Product News: Test & Measuring Instruments
Multichannel Voltage/Current Datalogger has real-time alarming.
Press Release Summary: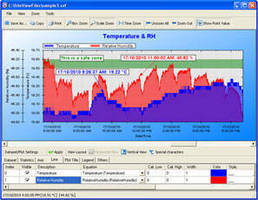 February 5, 2013 - For real-time monitoring alarming applications, stand-alone Accsense VersaLog provides 7 range-programmable voltage and current external input channels and one channel for recording ambient temperature. Sampling is user-selectable from 20 msec to 12 hr, and 4 MB Flash memory stores up to 2 million measurements. Utilize 16-bit ADC converter, datalogger comes with Windows® analysis software, splash-resistant aluminum enclosure, and support for USB, Modem, and Ethernet connections.
Original Press Release
CAS DataLoggers Introduces 8-Channel Current/Voltage Logger
Press release date: February 4, 2013
Accsense VersaLog Combo Datalogger Offers Low-Cost Value

CHESTERLAND OH–CAS DataLoggers is proud to announce its new Accsense VersaLog 8-Channel Voltage/Current Data Logger, a cost-effective solution for your real time monitoring and alarming projects, no matter how complex. Featuring high-precision measurements, a large 4MB memory, and powerful software, these data loggers are ideal for machine monitoring and energy usage applications where precise and accurate measurement is critical. Stand alone operation and powerful Windows analysis software makes Accsense VersaLog the clear choice for portable data recording and storage. CAS DataLoggers offers you these solutions at a low cost per channel to meet just about any budget.

8-Channel Combo Logger
The new Accsense VersaLog combo logger features 7 range-programmable voltage and current external input channels covering wide measurement requirements for accurate monitoring in lab research, machine monitoring, energy applications and more. The combo logger also features a channel recording ambient temperature, giving you triple utility for your applications. Accsense VersaLog's small size and light weight enable portable placement wherever you need it.

Fast Sampling onto Large Memory
Accsense VersaLog data loggers support a user-selectable sampling range anywhere from 20 milliseconds to 12 hours, providing you with a low-cost alternative to expensive DAQ systems and paper chart recorders. The 4MB Flash Memory stores up to 2 million measurements and stores data in non-volatile flash memory for later retrieval. Input voltage/current signals can be from sensors, transducers, transmitters or any other common voltage/current sources. The combo logger also has a 10-yr battery life making it a great low-maintenance device.

Accsense VersaLog data loggers utilize a 16-bit ADC converter meeting most high-resolution requirements. The logger also features a fast sampling mode and supports USB, Modem and Ethernet connections for easy local and remote access –now you can stay on top of your data anywhere, anytime.

Additionally, Accsense VersaLog data loggers are designed with a rugged, splash-resistant aluminum enclosure, and their internal electronics are protected against moisture by a conformal coating ensuring reliable operation in extreme industrial environments.

Real-Time Alarming Capability
Accsense VersaLog data loggers provide alarm and excitation outputs controlled by the low and high programmable alarm thresholds of each enabled channel. To further notify you of sudden changes in your parameters, you can use these alarm control outputs to trigger on/off external alarm devices such as sirens, strobe lights, or alarm telephone dialers.

Download and Analysis Software
SiteView Windows software is an inexpensive PC-based application which works with Accsense VersaLog series data loggers for downloading, configuration, data analyzing and plotting. Its intuitive graphic interface plus powerful functionality fit both novice and advanced users. The versatility of custom equation and custom-line equation handle complicated measurement requirements including difficult scientific and laboratory algorithms.

SiteView's fast communication speed (up to 115200 bps) enables quick downloads, while multiple file loading makes it easy to compare your data. Many other options are available including zoom in/out, annotate/label graph functions, and viewing of dynamic statistics to give you more detailed information of the current zoomed view. SiteView also features real-time viewing and chart recording capabilities which entirely replace chart recording devices.

All These Features at a Low Price
Accsense VersaLog Product Manager Anthony Boyer comments, "These new combo loggers give you current and voltage inputs, a large memory, and high accuracy with the ADC. You can also log ambient temperature and setup alarms to notify you when your values go out of spec. All in all they're a great value for your projects."

To get more information on our new Accsense VersaLog data loggers with models recording temperature, humidity, voltage, and current, or to find the ideal solution for your specific project, contact a CAS Data Logger Applications Specialist at (800) 956-4437 or visit the website at www.DataLoggerInc.com.

Contact Information:
CAS DataLoggers, Inc.
12628 Chillicothe Road Chesterland, Ohio 44026
(440) 729-2570
(800) 956-4437
sales@dataloggerinc.com
www.dataloggerinc.com