Product News: Computer Hardware & Peripherals, Display & Presentation Equipment
Multi-Touch Display aids conference room scheduling.
Press Release Summary: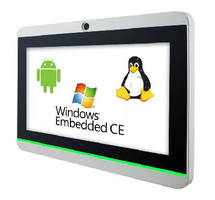 March 24, 2014 - Powered by TI's Sitara ARM Cortex-A8 AM3354 microprocessor, Multi-Touch HMI Panel PC utilizes Projective Capacitive Touch technology and is available in 7 in. 1,024 x 600 WXVGA screen size. PoE technology safely transfers electrical power, along with data, to remote devices over standard category 5 cable in Ethernet network. System comes preloaded with Linux, Android™, or Windows® Embedded Compact 7 OS, and ability to customize variety of third-party real-time operating systems.
Original Press Release
AIS Expand Its HMI Portfolio of Multi-Touch Display with an ARM Microprocessor and New Set of Operating Software Options for M2M, Home and Building Automation Applications
Press release date: March 17, 2014
AIS New 7" Multi-Touch Panel PC Supports Linux, Android or Windows Embedded CE Operating Systems, In Addition to a Variety of 3rd Party RTOS Offerings

IRVINE, CALIFORNIA – American Industrial Systems, Inc. (AIS), a leader in HMI multi-touch displays, panel PC and operator interface technologies has announced the addition of their new PoE multi-touch conference room scheduling system. The new multi-display utilizes Projective Capacitive Touch (PCT) technology and is powered by a Texas Instrument's® (TI) Sitara ARM Cortex-A8 Microprocessor. Available in a 7" 1024 x 600 WSVGA screen size, the new HMI multi-touch display from AIS also touts an expanded set of operating system software options for all the popular operating systems and many third party systems as well. It comes preloaded with one of the following high-level operating systems (HLOSs) including Linux, Android™, or Windows® Embedded Compact 7 OS, and the ability to customize a variety of third-party Real-time Operating System (RTOS) ideal for connecting to Machine to Machine (M2M), Industrial, Home and Building Automation applications.

AIS Open System HMI Technology Fosters "Internet of Things" and M2M Communications
As the world becomes increasingly digital more and more every day, and connectivity is near ubiquitous, new electronic devices, equipment and automated machines in industrial facilities and commercial buildings use the internet to expand and facilitate communication of data for variety of purposes. Machine to machine (M2M) refers to technologies that allow both wireless and wired systems to communicate with other devices of the same type.  While not a new concept in the industrial world, M2M communication was primarily used on the factory floor communication and manufacturing execution system level (MES). Today, thanks in part to "internet of things", M2M communication is becoming more of an integral and important part of the overall network scheme.

Internet connected devices can be used to enhance interpersonal communication, automate complex and/or tedious industrial processes, and provide a wealth of information to the enterprise. With AIS's open architecture design, their multi-touch HMI displays are far more flexible visualization tools than others using proprietary platforms. In addition, AIS open control and monitoring HMIs enable easy connectivity and communication from M2M up and throughout the enterprise level.

AIS Utilizes TI's Low Powered Sitara ARM Cortex-A8 Microprocessor for their New 7" PoE HMI
The new AIS 7" HMI Panel PC, which is a fully-integrated' Commercial Off-the-Shelf (COTS) unit features a robust and lower-power TI ARM® Cortex™-A8 AM3354 Processor 720 MHz The AM3354 ARM Cortex-A8 processor-based design from Texas Instruments provides high performance processor, graphics and connectivity. It comes with pre-installed Linux, Android™, or Windows® Embedded Compact 7 operating systems, and the added ability to customize a variety of third-party Real-time Operating System (RTOS) offerings to meet the demands of Human Machine Interface (HMI) solution requirements.

AIS HMI Are Equipped with both Power over Ethernet (PoE) & Multi-Touch (PCAP) Technology
AIS HMI multi-touch displays are industrial-grade LCD flat panel displays with a sleek industrial design, and feature Projective Capacitive Touch (PCT or PCAP). Multi-touch refers to the ability of a surface (touchscreen) to recognize the presence of more than one or more than two points of contact with the surface. The sensor in projected capacitive touch allows tracking of two simultaneous touches quickly and accurately across the entire screen. The AIS 7" flat panel mount multi touch PC is accurate, responsive and easy-to-use, enabling migration of existing single touch applications to a gesture-based interface that creates and delivers popular user interactions such as pan, zoom and rotate.

In addition to incorporating multi-touch technology, the AIS 7" comfort control panel PC is Commercial Off-the-Shelf (COTS) unit that features PoE Technology. This technology features a system that safely transfers electrical power, along with data, to remote devices over standard category 5 cable in an Ethernet network. It does not require modification of existing Ethernet cabling infrastructure, so deployment is simplified. The AIS 7" HMI panel offers a cost effective solution by bringing power and data transfer, via a standard twisted pair Ethernet cabling in a network for faster time to market.

AIS Dual-touch Capabilities Are Built-in to Linux, Android, or Windows Embedded CE Operating Systems, and Other Popular Programming Languages Below:
AIS HMIs Powered by Android Platform Development
Android is an open source project initially developed by Google but later a large group of technology and mobile companies including Google formed the Open Handset Alliance (OHA). The main goal of the OHA is to further improve and to make the open source Android platform a commercial success. Android provides many Application Programming Interfaces (APIs) for developing projects. Android features a Plugin for the Integrated Development Environment (IDE) Eclipse, making it easy to develop and debug applications on a virtual emulator as well as on real hardware. It is also possible to create native C/C++ applications and accessing them from within the Java context. Easy scalability, enabled by software compatibility within an AIS 7" HMI terminal can quickly expand market opportunities for connected M2M, industrial, home and building automation solutions as well as reduce project development time.

AIS HMIs Powered by Windows Embedded Compact 7 Platform Development
The Windows® Embedded Compact 7 includes XAML for Windows Embedded, a powerful technology that allows you to build interfaces that incorporate multi-touch and gesture support. It is real-time operating system that supports an array of hardware requirements and ARM processor architectures. It can power everything from tiny controls to a fully automated building.  A one-tier security model feature is SDL compliant and helps ensure that only authenticated applications can run on an AIS 7" HMI panel PC. This feature enhances reliable connectivity and networking performance. Popular tools like "Visual Studio" and "Expression Blend" allow users to create attractive and intuitive user interfaces, which enable AIS HMIs to deliver M2M communication, industrial, home and building automation market faster than ever before.

AIS HMIs Support Qt Port of WebKit and Runs on Linux
WebKit is an open source web browser engine. WebKit's HTML and JavaScript code began as a branch of the KHTML and KJS libraries from KDE. As part of KDE framework KHTML was based on Qt but during their porting efforts. The AIS 7" HMI terminal supports the Qt port of WebKit which currently compiles and runs on Linux. The code is easily built onto any Linux distribution system which has development packages for Qt installed.

About AIS
Headquartered in Irvine, California, USA, American Industrial Systems, Inc. (AIS) offers in-house electronic and mechanical design, software development, manufacturing, production and quality control services. Offering one of the widest ranges of industrial computing solutions in the industry, AIS solutions are available in a multitude of configurations for industrial, oil & gas, military and marine applications. The company is fully committed to empowering, improving and delivering turnkey HMI, monitoring and display solutions for OEM, ODM and end-user customers. AIS is an ISO 9001:2008 certified supplier and manufacturer of rugged computers and displays, and received completion of the International Traffic in Arms Regulations (ITAR) registration from the Directorate of Defense Trade Controls (DDTC). For more information, visit: www.aispro.com, email: sales@aispro.com or contact: 1-888-485-6688.

Media Relations Contact:
American Industrial Systems, Inc.
Santiago Consunji
Business Development and Marketing Manager
Call: 1-949-681-7468 or Email: santiago.consunji@aispro.com