Product News: Computer Hardware & Peripherals, Machinery & Machining Tools
Multi-Function Subsystem combines computer and network router.
Press Release Summary: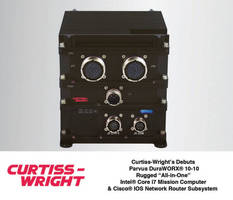 August 25, 2014 - Intended for defense and aerospace industry, Parvus® DuraWORX® 10-10 combines Intel® Core i7-based processing and Cisco 5915 Internetwork Operating System-managed defense-secure network router in single subsystem. COTS modular platform provides system designers with scalable all-in-one computing appliance that facilitates integration of tactical computing, IP networking, and situational awareness applications, while minimizing SWaP and enabling Line Replaceable Unit consolidation.
Original Press Release
Curtiss-Wright Debuts Rugged "All-in-One" Intel® Core i7 Mission Computer & Cisco® IOS Network Router Subsystem
Press release date: August 19, 2014
New Parvus DuraWORX® 10-10 combines a high performance Intel Core i7 Processor and Cisco Router in a single multi-function SWaP-optimized unit

ASHBURN, Va. – Curtiss-Wright Corporation (NYSE: CW) today announced that its Defense Solutions division, a Cisco® Systems Solution Technology Integration (STI) partner, has introduced the Parvus® DuraWORX® 10-10, one of the embedded defense and aerospace industry's first single unit SWaP-optimized subsystem solutions to combine Intel® Core i7-based processing and a Cisco 5915 Internetwork Operating System (IOS)-managed defense-secure network router in a single subsystem. This Commercial-Off the Shelf (COTS) modular and scalable platform is designed for optimal performance in extended temperature, high shock & vibration environments. It provides system designers with a scalable, all-in-one computing appliance that simplifies the integration of tactical computing, IP networking and situational awareness applications, while significantly reducing SWaP and enabling Line Replaceable Unit (LRU) consolidation.

The DuraWORX 10-10 uniquely delivers new levels of computing and communications capabilities for mobile, airborne, ground vehicle applications operating at the tactical network edge. It's designed to support C4ISR command and control, image processing and surveillance requirements while aggregating peripheral devices (cameras, sensors, computers) from external and embedded IP networks into a manageable, highly secure IP network. The DuraWORX 10-10 extends the Cisco enterprise networking infrastructure beyond the reach of traditional fixed networks into mobile and embedded systems applications.

"Today's military system integrators have two seemingly contradictory challenges: deploy more networked intelligent capabilities for the warfighter and reduce the space, weight, power and cost of those systems," said Lynn Bamford, Senior Vice President and General Manager, Defense Solutions division. "Our new DuraWORX 10-10, with its high performance mission computer and Cisco IOS network router housed in a single compact chassis, offers system integrators a means to achieve both goals without compromising performance or budget."

"Cisco congratulates our STI partner Curtiss-Wright for its innovative new DuraWORX 10-10 rugged subsystem that uniquely combines Cisco embedded services router and switch technology with a Curtiss-Wright mission processor system in a modular SWaP-optimized package," said Dan Kent, Cisco CTO for the U.S. public sector. "Curtiss-Wright is a market leader in delivering Cisco IOS-based solutions that meet the special requirements of prime defense contractors and civil agencies seeking to deploy data, video, and voice services in demanding tactical vehicle and aircraft applications."

Industry-leading COTS-based LRU Solutions

The DuraWORX 10-10 uniquely integrates the capabilities of Curtiss-Wright's industry leading DuraCOR 80-40 mission computer and DuraMAR 5915 network router line replaceable unit (LRU) subsystems in a single highly rugged enclosure. Parvus DuraNET 30-2020 or DuraNET 20-10 Ethernet switches can also be integrated in the system to increase Ethernet port count and add managed Layer 2 switching capabilities.

DuraCOR 80-40: A rugged COTS tactical mission computer subsystem based on the high performance Intel Core i7 Sandy Bridge processor with a high-speed, stackable PCI-Express bus (PCIe/104) architecture for I/O card expansion. Optimally designed for Size, Weight, and Power (SWaP)-sensitive mobile, airborne, ground, manned or unmanned vehicle applications, the DuraCOR 80-40 combines powerful graphics and multi-core processing with ultra-reliable mechanical robustness and modular I/O expansion for extreme environmental and EMI performance per MIL-STD-810G (thermal, shock, vibration, dust, water, humidity) and MIL-STD-461F.

DuraMAR 5915: Rugged SWaP-C optimized mobile IP router subsystem. The Parvus DuraMAR 5915 delivers a Cisco IOS networking architecture with advanced routing features supporting Communications on the Move (COTM), remote Voice Over IP (VoIP), Mobile Ad Hoc Networking (MANET), AES/NSA Suite B Encryption, and Radio Aware Routing (RAR), among others. Optional Cisco IOS-based (DuraNET 30-2020) or Vitesse CE Services-based switch subsystems (DuraNET 20-10) can be coupled to the DuraMAR router to scale port density to up to 23 Ethernet ports. Designed to deliver optimal performance in harsh conditions, the rugged, compact unit is designed to meet MIL-STD-810G, MIL-STD-461F, MIL-STD-1275, MIL-STD-704F, and RTCA/DO-160G standards.

DuraNET 30-2020: Ultra-rugged 19-port Cisco IOS-managed Layer 2 network switch integrating Cisco's ESS 2020 Embedded Services Switch technology with an isolated MIL-STD-1275/704 power supply in an IP67 (dust/water proof) sealed aluminum chassis with MIL-DTL-38999 connectors. Provides reliable local area network (LAN) switching capabilities with the ease of use, highly secure access, and manageability expected from Cisco-based technology to support access layer connectivity and needs for data, security, voice, and video traffic at the network edge for stationary or mobile network nodes.

DuraNET 20-10: Rugged Gigabit Ethernet (GbE) switch subsystem featuring advanced Layer 2 networking features with 20 ports of non-blocking wire-speed 10/100/1000Mbps connectivity, an integrated management processor and extremely low power consumption. The DuraNET 20-10 enables reliable switching across extended operating temperature to connect a large number of IP-enabled embedded devices, including computers, cameras, sensors, and command-and-control equipment deployed in digital networked architectures of manned and unmanned system platforms at the network edge. The unit is designed to meet extreme MIL-STD-461F, RTCA/DO-160G, MIL-STD-810G thermal, shock, vibe, humidity, altitude, ingress, and EMI/EMC conditions

Scalable and Expandable
Designed to adapt to and meet the needs of changing application requirements, the DuraWORX 10-10 is highly scalable and easily expandable. Options include support for DuraNET Ethernet switching and system expansion via PCIe104 I/O cards for payload specific interfaces (e.g. MIL-STD-1553, ARINC 429, CANbus, Video frame grabber, etc.). Application engineering services are available for modified COTS (M-COTS) configurations at minimal/no NRE for pre-integration of PCIe/104 I/O cards.

Sales inquiries: Please forward all Sales and reader service inquiries to Kavita Williams, Curtiss-Wright Defense Solutions, Tel: (661) 705-1142; Fax: (661) 705-1206; email: ds@curtisswright.com.

About Curtiss-Wright Corporation
Curtiss-Wright Corporation (NYSE:CW) is a global innovative company that delivers highly engineered, critical function products and services to the commercial, industrial, defense and energy markets. Building on the heritage of Glenn Curtiss and the Wright brothers, Curtiss-Wright has a long tradition of providing reliable solutions through trusted customer relationships. The company employs approximately 10,000 people worldwide. For more information, visit www.curtisswright.com.

Note: All trademarks are property of their respective owners.

John Wranovics
Director of Public Relations
Curtiss-Wright Defense Solutions
jwranovics@curtisswright.com
Mobile: (925) 640-6402