Product News: Controls & Controllers, Software
Motion Controller Software features graphical interface.
Press Release Summary: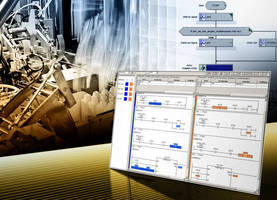 November 20, 2012 - Automating integration of drives and components into Simotion system, Simotion Scout v4.2 helps configure, program, test, and commission applications. Software's graphical interface includes interconnection screen, where all compatible objects are listed hierarchically, and symbolic connection of components to be interconnected is performed via user-selection. Product also features automatic drive integration and comparisons for graphics-based programming languages.
Original Press Release
New and Improved Simotion Scout Improves Usability
Press release date: October 28, 2012
CHICAGO, PACKEXPO — The motion control business of Siemens Industry, Inc. has announced that Simotion Scout, the engineering system used for configuring Simotion motion controllers, has been updated with a wide range of usability improvements.  As more and more demands are put on modern production machines, this system enables all of the application functions and tasks to be implemented within one uniform user interface. 

Simotion is the scalable motion control system that quickly and easily handles increasing machine demands by enabling central machine functions to be implemented with just one controller. It is available in three variants: drive-based, PC-based and controller-based. 

Simotion Scout facilitates the configuration, programming, testing and commissioning of applications.  With its graphical-based programming, Scout further facilitates system configuration for new users.  Users of Scout 4.2 will also benefit from new features such as automatic drive integration and detailed comparisons for graphics-based programming languages.

The most significant innovation of Scout 4.2 is its simplified interface to the Siemens Sinamics drive system.  This feature provides users with an automated means of integrating drives and components into the Simotion system.  Using the new symbolic assignment of technology objects (TOs) and I/Os to drive objects, users no longer manually configure communication with message frames and addresses because Simotion Scout now automates this task.  Object-to-object assignment takes place via a new inter-connection screen.  In this screen, all compatible partners are listed hierarchically and the symbolic connection of the components to be inter-connected takes place by simple selection.

For more information about motion control solutions and services from Siemens, point your web browser to www.usa.siemens.com/motioncontrol .  Join the community by following us on Facebook:  www.facebook.com/siemens.dt.us and talking to us on Twitter:  www.twitter.com/siemens_dt_us .

New Simotion Scout version 4.2, a visualization tool for parameter configuration of Simotion,
the Siemens motion control system for production machines. 

Please forward all inquiries to:
Siemens Industry, Inc.
Motion Control Business
390 Kent Avenue
Elk Grove Village, IL  60007
Attn:  Marketing Communications

For specific product information and inquiries, call (800) 879-8079 ext. Marketing Communications
or send an e-mail to:  SiemensMTBUMarCom.industry@siemens.com

Siemens Industry Sector is the world's leading supplier of innovative and environmentally friendly products, solutions and services for industrial customers. With end-to-end automation technology and industrial software, solid vertical-market expertise, and technology-based services, the sector enhances its customers' productivity, efficiency and flexibility. With a global workforce of more than 100,000 employees, the Industry Sector comprises the Industry Automation, Drive Technologies and Customer Services Divisions as well as the Metals Technologies Business Unit. For more information, visit www.usa.siemens.com/industry .

The Siemens Drive Technologies Division is the world's leading supplier of products, systems, applications, solutions and services for the entire drive train, with electrical and mechanical components. Drive Technologies serves all vertical markets in the production and process industries as well as the infrastructure/energy segment. With its products and solutions, the division enables its customers to achieve productivity, energy efficiency and reliability. For more information, visit www.usa.siemens.com/drivetechnologies .

CONTACT: John Meyer
(847) 640-1595
john.meyer@siemens.com