Product News: Vision Systems, Optics & Photonics
Monolithic Light Engine features hermetically sealed design.
Press Release Summary: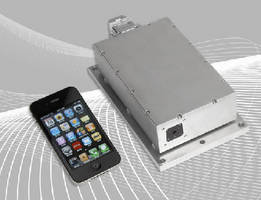 February 28, 2014 - Available in 3 or more output wavelengths from 405–785 nm and powers up to 200 mW, OEM Monolithic Light Engine withstands mechanical shock, vibration, and temperature changes. Internal laser components, combining elements, and beam shaping optics are held at constant temperature in ultra-compact package, which delivers pointing and power stability as well as low optical noise. Customized beam profiles, focal distances, and modulation parameters are available per OEM requirements.
Melles Griot Photonics Components Div.
Original Press Release
The Customizable Monolithic Light Engine from Melles Griot
Press release date: February 20, 2014
Carlsbad, CA— Melles Griot is proud to introduce the OEM Monolithic Light Engine. The light engine can shake, rattle, and ship without needing to be realigned.  The worry free and truly hands-free light engine is available in three or more output wavelengths from 405 to 785 nm and powers up to 200 mW.

The hermetically sealed design, combined with a patented beam-combiner and ground-breaking mechanical design results in rock-solid stability when subjected to mechanical shock, vibration and temperature changes.  The internal laser components, combining elements, and beam shaping optics are held at a constant temperature in an ultra-compact package, which delivers excellent pointing stability, ultra-low optical noise and outstanding power stability. Customized beam profiles, focal distances and modulation parameters are available per OEM requirements.

OEM Applications include:
• Flow cytometry
• Confocal microscopy
• Microarray scanning
• Retinal scanning
• Capillary electrophoresis
• Laser induced fluorescence
• PCR
• Replaces multiple lasers, mounts, and optics

Visit the new website, http://mellesgriot.com or call 760-438-2131 to request a quote today.

About Melles Griot
Melles Griot, combines deep technical expertise with creative engineering teams who understand how to bring product ideas to market successfully for life science, medical, imaging, semiconductor and defense customers worldwide. From components and optical systems, to laser sources and light engines, the Melles Griot team helps engineer success by taking a lifecycle approach to product development with close collaboration throughout, and delivering a solution that meets requirements for performance, cost and quality. Melles Griot is a brand within the IDEX Optics & Photonics family of companies.

For additional information, please visit, http://mellesgriot.com.

CONTACT:
Katie Toma
Marketing Specialist
IDEX Optics & Photonics
200 Dorado PL SE
Albuquerque, NM 87123
Tel: (505) 296-9541 x1280
Fax: (505) 298-9908
ktoma@idexcorp.com