Product News: Test & Measuring Instruments
Molecular Size, Weight Detector increases GPC/SEC productivity.
Press Release Summary: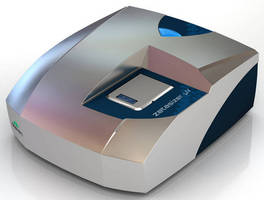 December 4, 2012 - Able to increase experimental productivity by maximizing information flow from single experiment, Zetasizer µV size and molecular weight detector can be connected to existing gel permeation/size exclusion chromatography (GPC/SEC) system using standard chromatography tubing. Results reporting and analysis for this dual integrated light scattering system are handled via OmniSEC software, and cuvette mode allows characterization of discrete samples with just 2 µL of material.
Original Press Release
Malvern's Complementary Detector Arrays Boost GPC/SEC Productivity
Press release date: November 20, 2012
Apply both dynamic and static light scattering for size and molecular weight measurement

Malvern, UK: Malvern Instruments' detector range for gel permeation/size exclusion chromatography (GPC/SEC) now includes the Zetasizer µV, a versatile size and molecular weight detector that can be added to any system to boost experimental productivity by maximizing information flow from a single experiment. Complementary to Malvern's established Viscotek range, which includes detectors for concentration, intrinsic viscosity and absolute molecular weight measurement, the Zetasizer µV is a dual integrated light scattering system with particular value for protein characterization. It is easily connected to an existing GPC/SEC system using standard chromatography tubing and results reporting and analysis are efficiently handled through Malvern's powerful OmniSEC software.

With GPC/SEC the productivity of analysis is directly impacted by the number of detectors applied to the eluting, fractionated samples. The Zetasizer µV uses dynamic light scattering to secure precise molecular size measurement while at the same time offering static light scattering for absolute molecular weight measurement. In protein characterization these capabilities support the detailed study of aggregation and conjugation and the flexibility to use the detector in cuvette mode is an important added bonus, one that allows the characterization of discrete samples with just 2 µL of material.

The versatile Zetasizer µV can be added to any protein SEC system to bring absolute molecular size and molecular weight capability to the chromatography experiment, and  avoid the need to calibrate the column.  In addition, the change over from chromatography detector to ultra-sensitive batch DLS takes just a few seconds, maximizing the overall productivity of the instrument.

www.malvern.com

Malvern, Malvern Instruments, Viscotek and Zetasizer are registered trademarks of Malvern Instruments Ltd

About Malvern Instruments
Malvern Instruments is a market leader in measuring performance controlling material properties. These include particle size, particle shape, zeta potential, molecular weight, size and conformation, rheological properties and chemical identification. Malvern delivers the systems, support and expertise that ensure the analytical integrity and productivity needed to drive research, development and manufacturing.

Malvern's measurement solutions for scientists, technologists and engineers advance continually through customer collaboration. Complementary materials characterization systems deliver inter-related measurements that reflect the complexities of particulates and disperse systems, nanomaterials and macromolecules. Combining intelligently implemented technologies with in-depth industry applications knowledge and support, Malvern provides customers with the competitive advantage they demand.

Headquartered in Malvern, UK, Malvern Instruments has subsidiary organizations in all major European markets, North America, China, Japan and Korea, a joint venture in India, a global distributor network and applications laboratories around the world. www.malvern.com

Facebook: MalvernInstruments
Blog: www.materials-talks.com
Youtube: malverninstruments
Linked-In: malvern-instruments
Twitter: malvern_news

For press information, please contact:
Trish Appleton, Kapler Communications 
Phoenix House, Phoenix Park, Eaton Socon, Cambridgeshire, PE19 8EP, UK
Tel: +44 (0)1480 471059 
Fax: +44 (0)1480 471069 
trish.appleton@kapleronline.com
  
USA contact:
Marisa Fraser, Malvern Instruments Inc.
117 Flanders Road, Westborough, MA 01581-1042  USA
Tel:  +1 508 768 6400
Fax: +1 508 768 6403 
marisa.fraser@malvern.com

Please send sales enquiries to:
Alison Vines, Malvern Instruments Ltd
Enigma Business Park, Grovewood Road, Malvern, Worcestershire WR14 1XZ  UK
Tel: +44 (0) 1684 892456
Fax: +44 (0) 1684 892789
salesinfo@malvern.com