Product News: Electrical Equipment & Systems
Modular Connectors expand versatility via monoblock inserts.
Press Release Summary: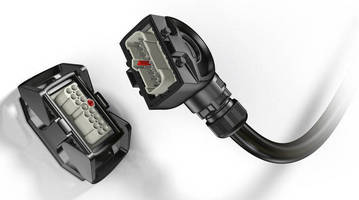 July 9, 2014 - Han-Eco® and Han-Yellock® feature dedicated, high-density monoblock inserts that let one connector replace bigger or multiple connectors. Han-Eco monoblock E inserts with screw termination use Han E contacts with wire protection. Monoblocks carry 500 V and 16 A ratings and have pre-leading PE contact. Contact numbers of 10, 14, 20, and 28 plus PE are available for 4 respective housing sizes. Han-Yellock monoblocks offer 25 or 48 contacts with crimp termination for housing sizes 30 and 60.
Original Press Release
HARTING Monoblocks Expand Utility of Popular Connectors Han-Eco®, Han-Yellock®
Press release date: June 1, 2014
ELGIN, IL — HARTING has expanded the capabilities of two best-selling modular connector series, Han-Eco® and Han-Yellock®, by developing dedicated, high density monoblock inserts for each. With these inserts, a single Han-Eco® or Han-Yellock® connector can replace a bigger connector or multiple units for significant space savings on the device or control cabinet.

The new Han-Eco® monoblock E inserts with screw termination, like the existing Han-Yellock® monoblocks, are designed as snap-in modules for fast, tool-free assembly. Han-Eco® monoblocks use the same Han® E contacts with wire protection that have already proven themselves in millions of applications, yet offer up to 67% more contact density than Han® E inserts. The monoblocks have a rated voltage of 500V and current of 16A and feature a pre-leading PE contact (ground). This results in contact numbers of 10, 14, 20 and 28 plus PE for the four Han-Eco® housing sizes respectively. These monoblocks can be combined with modules from the Han-Modular® series in any Han-Eco® housing to mix transmission media. For their part, Han-Yellock® monoblocks offer 25 or 48 contacts with crimp termination for housing sizes 30 and 60 respectively.

Han-Eco® connectors are made of glass-fiber reinforced high-performance plastics. This product has quickly established itself on the market in the last two years as a lower weight, economical and extremely reliable and durable alternative to metal connectors, ideal as an OEM part or aftermarket replacement. The rugged plastic housings are highly resistant to environmental influences; when locked, Han-Eco® achieves protection class IP65. This, in turn, has led to its speedy adoption for use with machinery of all kinds, conveyor systems, broadcast equipment, and throughout the rail, marine and offshore wind power sectors. For its part, the award-winning, die-cast zinc Han-Yellock® is distinguished by unrivalled innovations like its patented internal locking mechanism that works like a seat belt, for fast locking and push-button release. Secure locking takes place when the cable and device sides are joined together. Also, Han-Yellock® can incorporate the function of multiplying potentials, dispensing with the need for terminal blocks inside a machine.

About HARTING
The HARTING Technology Group, privately owned and based in Germany, employs approximately 3,800 people globally with subsidiaries and branch offices in 40 countries. With production facilities in Europe, Asia and the United States, the HARTING portfolio of connectivity solutions focuses on multiple levels, from the machine to the device and into the communication infrastructure. The US plant in Elgin, Illinois is one of three HARTING locations that manufactures the HIS product line (HARTING Integrated Solutions/backplanes) and custom cable assemblies. The company's core business is intelligent and high-performance connection technology. HARTING works in almost all industrial markets with a focus on requirements for robust, reliable connectivity solutions.

Media Contacts:
Christina Chatfield
Marketing Communications Manager
HARTING North America
1370 Bowes Road
Elgin, IL 60123
+1 (847) 717-9217
christina.chatfield@HARTING.com
www.harting-usa.com